Updated on 6th November 2017
SHARE THIS: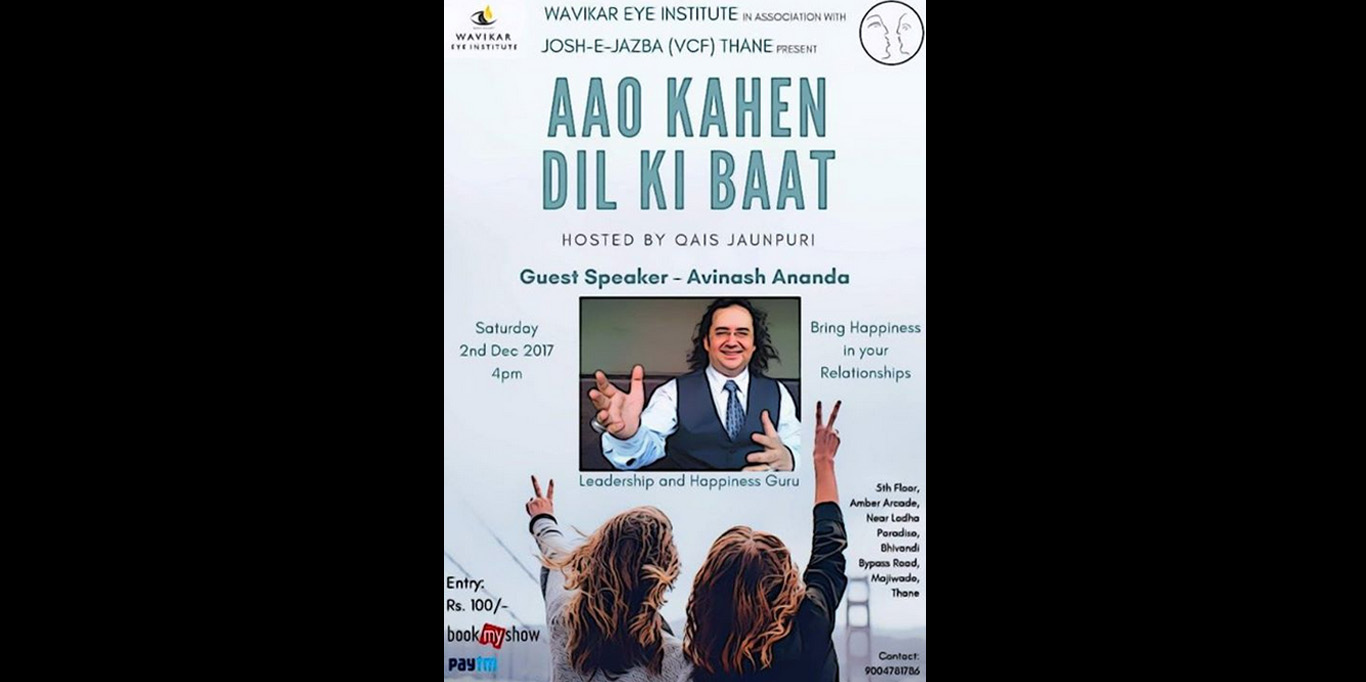 Image Source: https://allevents.in/thane
Event Name: Aao Kahen Dil Ki Baat
Venue: Wavikar Eye Institute, 5th Floor, Amber Arcade, Near Lodha Paradise, Bhivandi Bypass road, Majiwade, Thane
Dates: Sat 2nd Dec 2017 , 4:00 PM
About the Event:
We all have, at least one person in our life, to whom we want to say something, but we always stop ourselves, just because of our shyness, hesitation and fear. Here, you get, an opportunity to speak in public, and say, whatever you want to say.

If you have fear of speaking in public, then you can write everything on a paper, and then your letter should be given to that person in your life. You can try anything, give it secretly, keep under their pillow, pocket, purse, table, wherever you are comfortable. If you want, you can bring that person to the event as well.
If you want to keep your identity secret, we will take care of that. But you must speak, because every person in this world feels the same way. Maybe someone gets inspired from your courage and their life improves.
What will you get out of it?
You will feel motivated and inspired after releasing your stress out which will show up in your performance.
Host:
Qais Jaunpuri is the founder of Aao Kahen Dil Ki Baat, a real life sharing program, which allows people to share their secrets in public. He writes rebellious poems like "Main Namaaz Nahin Padhunga" and short stories. His first book LOVE ON GMAIL is available on Amazon, Flipkart and other online bookstores. He is associated with a prestigious theatre group Jashn-E-Qalam Storytelling. After working as Civil Engineer for 13 long years at various locations including Delhi, Gurgaon, London and Mumbai, he is now working as a Writer and Lyricist in Mumbai.
Guest Speaker - Avinash Ananda

Hailed by the media and professionals as Leadership and Happiness Guru, Avinash Ananda is a world renowned Leadership Adviser, Happiness Strategist, Motivational Key Note Speaker, Master Behavioral Trainer, Success Mentor, Life Coach, Transformational Thought Leader and Entrepreneur.
Avinash Ananda is the co-creator of Meta Mind Management, the revolutionary science of 360˚ Happiness, and Alignment Coaching Transformation System, the transformational learning system for Human Potential Optimization.
Avinash Anada, has trained over 100 Behavioral Trainers and 3,00,000 people from all walks of life, including executives of over 200 organizations from over 15 countries, across 12 industries in over 25 years in all aspects of behavioral sciences training.
SHARE THIS: