Release date: 13th Oct 2017
SHARE THIS:
Cast & Crew :Soundarya Sharma , Anupam Kher, Himansh Kohli, Jimmy Shergill, Satish Kaushik, Taaha Shah
Direction: Sattwik Mohanty
Ranchi Diaries depicts the story of Gudiya and her friends who hail from a small town Ranchi. She has the dream of becoming a pop sensation like Shakira. Her talent draws the unwanted attention of the local Mafia kingpin, Thakur bhaiya & makes her elope with childhood lover Manish.
The chain of events cross each other and create a ruckus. To get out of this trouble, Gudiya and her friends plan for a bank heist. Their ambitious bank heist becomes the joke of the town when they attempt it. Amidst the chaos between the Goons and the cops whether GUDIYA & her friends could make it to the survival, is what the #RanchiDiaries all about.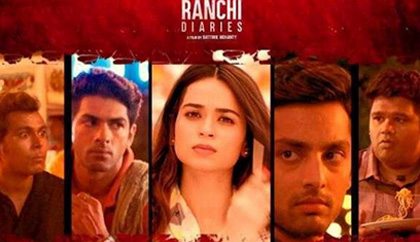 Source: http://www.bookmyshow.com/
SHARE THIS: