Coffee based desserts for coffee lovers – know more
August 2021
SHARE THIS: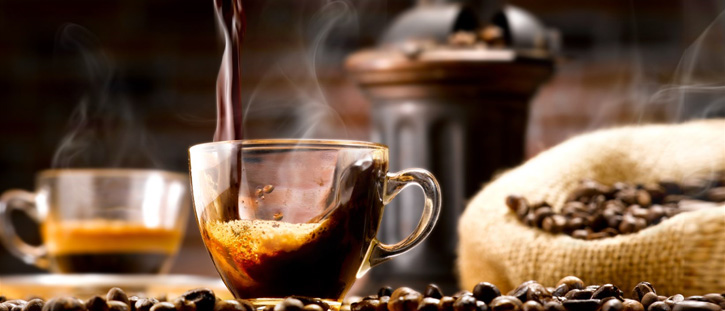 Coffee based desserts for coffee lovers Is the enchanting taste and aroma of coffee your holy grail? Then why not add the classic rich flavour of coffee to your homemade desserts and amp up your indulgence! Making exotic desserts at home might seem like a tough task, but the simple addition of coffee can give your homemade delicacies a classic touch. So, here are a few coffee based dessert recipes, which you can make at home easily that too with some simple ingredients.

Just donn a chef's hat and nail these desserts like a pro!
Baked Coffee Yoghurt
To prepare this quick dessert, take a small bowl and add 2 teaspoons of coffee powder, 2 teaspoon powdered sugar along with 4 tablespoon warm water, whisk and make a coffee shot. Next, add 1 cup yoghurt along with some condensed milk and full-fat fresh cream, whisk the mix nicely along with the coffee shot. Next, bake or steam the yoghurt mix. Once done, take it out and allow the dessert to cool down and refrigerate. Serve chilled by sprinkling some coffee/chocolate powder.
Coffee Cocoa Pudding
Prepare this delicious pudding by making a corn flour slurry. Next, take a bowl, add equal portions of coffee powder and cocoa powder along with some warm water and make a coffee shot. Then take a pan on medium flame and add sugar, coffee shot and corn flour slurry, keep stirring till the mixture turns thick. Turn off the flame and allow it to attain room temperature. Pour them in the moulds or bowls, refrigerate. Serve chilled!
Coffee Truffles
These quick Coffee Truffles will leave you drooling. To make this quick dessert, just heat a pan on medium flame and add fresh cream, allow it to turn thick and reduce to half. Next, add in melted milk chocolate and melted dark chocolate, whisk nicely. Lastly, add the coffee powder and mix it nicely. Once the chocolate mixture turns thick, allow it to attain room temperature, grease your palms and make small balls. You can roll them on chocolate flakes or coconut flakes to accentuate the experience.
Coffee Chocolate Candy
To make this Coffee Chocolate Candy at home, take a pan and add some butter, once the butter is melted, add in brown sugar, white sugar, honey, salt and espresso shot. Cook the mixture, till it appears thick. Next, line a baking tray with parchment paper. Add some chocolate chips to the mixture and pour the mixture over the parchment paper and add crushed walnuts and almonds. Freeze the dessert and break them into small pieces and enjoy!
Coffee Ice cream
To make this quick Coffee Ice cream recipe, take a large bowl, add full-fat fresh cream along with sugar, whisk it until it turns fluffy. Once the sugar is dissolved, add boiled milk along with vanilla essence and coffee powder, whisk it all together. Once the mixture turns creamy and foamy, pour it in ice cream moulds and refrigerate for 4-5 hours. enjoy!
Also Read : Why Food and Theme Should Balance Each Other
Source: www.recipes.timesofindia.com
Read More About ,Thaneweb - Thane City For More details Call Us On 993011453 Email us at - info@thaneweb.com
SHARE THIS: