Updated on 11th December 2017
SHARE THIS: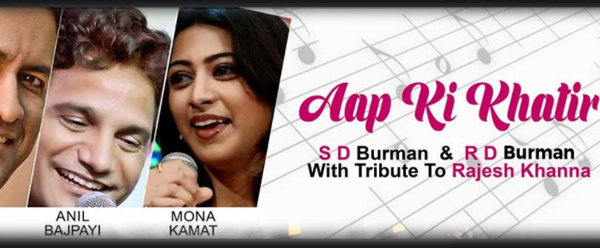 Bollywood, Tribute, Hindi, 3 Hours

ARTISTS: Shyam Edwankar, Anil Bajpai, Alok Katdare, Neelima Gokhale, Mona Kamat Prabhugaokar, Shrikant Rao
Aap Ki Khatir now wish to present a concept show featuring R.D. Burman-S.D. Burman hits with the 75th birth anniversary of superstar Rajesh Khanna on 30th December at Dr. Kashinath Ghanekar Natyagruh,Thane in which famous musicians of Bollywood like Shyam Edwankar will be performing as a Rhythm Arranger and who has been a prominent Rhythm Arranger for reputed Hindi movies like 'Bajirao Mastani', 'Tere Naam' and now presently busy in recording of upcoming film of Sanjay Leela Bhansali titled 'Padmavati'.
---
SHARE THIS: