Updated on 15th October 2017
SHARE THIS:
Drama, Marathi, 2 Hours : 15 Mins

ARTISTS: - Prashant Damle, Shubhangi Gokhale
When Marathi theatre's superstar, Prashant Damle, comes up with yet another beauty, this time with equally talented director Chandrakant Kulkarni, what other Title than, Sakhar Khallela Manus, (The man who ate sugar) may find better suit? The play, apparently can be said as the sequel to Prashant's last play, 'Karti Kaljat Ghusli'. Here the plot and premise of course is different with nearly extension of the characters of father and daughter. A relation that is as sweet as sugar. So is the play.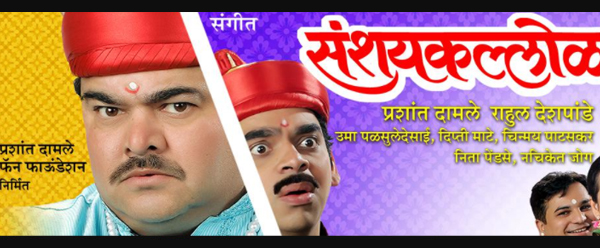 Drama, Musical, Marathi, 2 Hours : 45 Mins

ARTISTS: - Prashant Damle, Rahul Deshpande
The play, as the title suggests, is all about paranoia. A disorder of extended suspiciousness, dash of which is readily present in all of us. The lead characters of the play are in love with each other, so comes the mistrust between two married and unmarried couples. Falgunrao (Prashant Damle) and Kruttika (Dipti Mate) as middle aged couple in their second marriage and white collared Ashwinsheth (Rahul Deshpande) and the fancy woman, Revati (Uma Palsule-Desai) All four are good singers and thus the play with its 18 songs is a two-and-a-half-hour musical treat to the audience.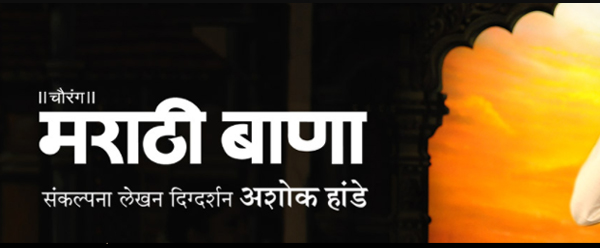 Musical, Marathi, 2 Hours : 30 Mins

DIRECTOR: - Ashok Hande, WRITER: - Ashok Hande
Marathi Bana' is a 70 MM display of Marathi culture and tradition presented by 125 artistes. This show is a blend of music, dance, drama and narration along with colourful lighting, art direction, rich costumes and smooth sound effects live on the stage. This show with proper authentic way of presentation gives us an experience of encapsulated Marathi culture with all its colours, moods, sentiments and above all enjoyment. 'Marathi Bana' proved to be the biggest live show ever staged in India. lt made a beginning with Housefull Board and continued to be so till today.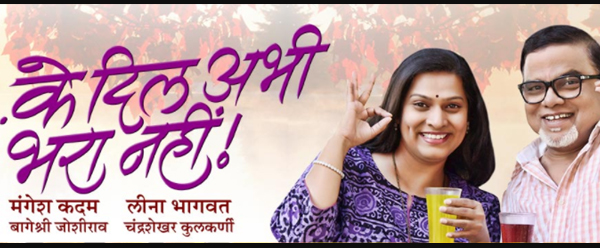 Drama, Marathi, 3 Hours

ARTISTS: - Mangesh Kadam, Leena Bhagwat
The story of this play revolves around a couple, Arun Nagarkar (Mangesh Kadam) and his wife Vandu (Leena Bhagwat) who have completed 35 years of their married life. Both Mangesh Kadam and Leena Bhagwat have displayed maturity of acting through their notable performances. Mangesh Kadam's apt body language and Leena's subdued style of dialogue delivery,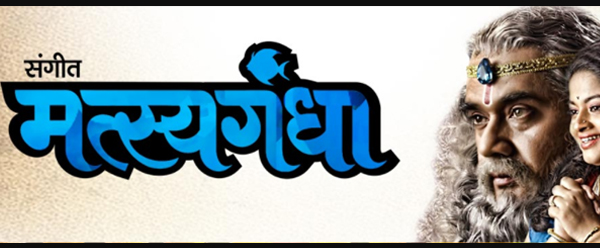 Drama, Marathi, Musical, 2 Hours : 30 Mins

ARTISTS: - #
This is a story of Satyawati, alias Matsyagandha (She who smells like fish). A story of love, dreams, lust, ambitions, power, revenge and many other facets of human behavior. Satyawati is the adopted daughter of, Dasharaj, a ferryman on the banks of the river Ganga. Due to the smell emanating from her body, Satyavati was known as Matsyagandha (She who smells like fish), and helped her father in his job as a ferryman. As a young girl, Satyavati met the wandering rishi (sage) Parashara, who fell in love with her at first sight and with his divine powers, transformed her into Yojangandha (She whose fragrance is spread over miles) by giving her a musk - fragrance - Kasturigandha. He fathered her son Vyasa and left her to further pursue his divine 'tapascharya, in the Himalayas. Satyawati' dream of love was shattered. Depressed and anguished, she lost faith in men and considers them to be selfish to the core.
---
SHARE THIS: