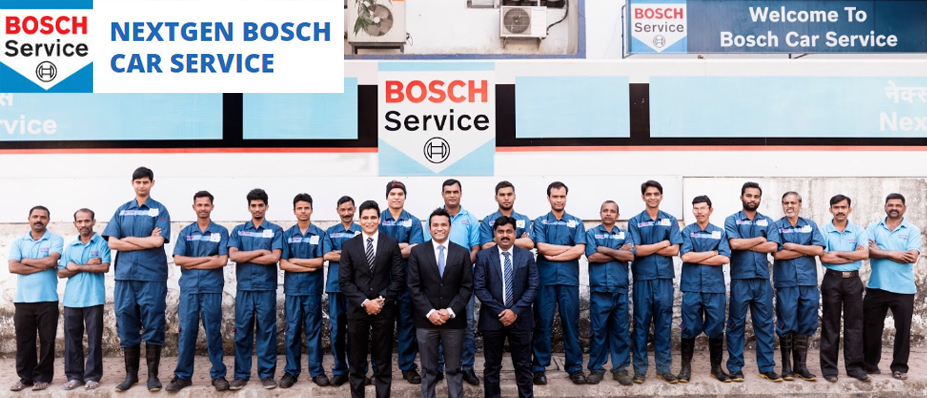 About us
NextGen Bosch Car Service – a modern organized multi-brand one stop shop car service center located in the heart of Thane City spread over 14000 sq ft.

We have a state of the art workshop that conforms to international standards and caters to all the needs of your car. Our 10 bay workshop is installed with modern Bosch and ATS-ELGI equipments that helps our highly qualified technicians to work round the clock and meet and go beyond our customers' expectations.

An equally sophisticated body and paint shop spanning 5 service bays whose special feature is a full size paint booth. Body repair and painting jobs are conducted by using the latest technology that offers factory like finish and coatings.
Why Choose us?
We are one of the leading multi-brand car service & repair workshops serving customers in Thane and Mulund area. All mechanic services are performed by well trained and experienced technicians.
We make car repair and maintenance more convenient for you
We are a friendly, helpful and professional group of people
Our well trained technicians know how to handle a wide range of car services
We get the job done right — the first time
Same day service for periodic maintenance
Pick-up and Drop Facility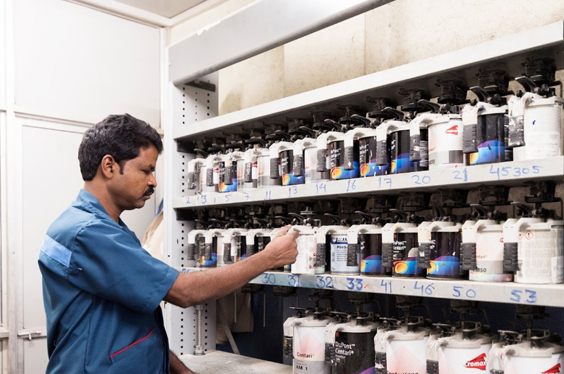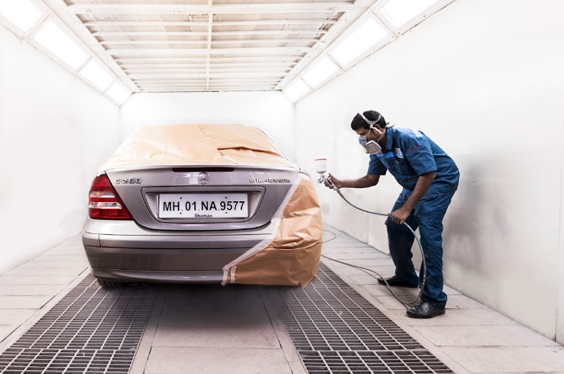 Our Services
Engine & Electrical Diagnostics
Current generation of vehicles have engine control unit (ECU) that caters to how your engine should function daily and under any operating condition. The sophistication of these ECUs means that you need to have the right set of tools to access the ECU and understand any mal-function lights or diagnostic codes displayed on your vehicle's dashboard.

We can support full engine diagnostics needs of your car using our Bosch KTS 570 ECU diagnostic scanner. Our professionally Bosch trained team of technicians along with KTS scanner can help you in taking care of any diagnostic need of your vehicle. We can cater to ECU check engine light, ABS, Air bag fault code diagnosis and repairs for all generation of cars using our KTS 570.

Our high-tech Bosch Auto Electrical Test bench gives us the ability to do full testing and servicing of your vehicle's alternator, battery and starter motor. Our battery test equipments allows us to check your car's battery life during servicing thereby ensuring that you are not stranded on the road.
Body & Paint Shop
Our Body &Paint shop boasts of a full size paint booth system coupled with highly qualified technicians that can provide a factory like finish to the denting and painting jobs. This is possible as a result of the right supporting infrastructure provided in the form of electro-hydraulic dent pullers, MIG and Spot Welders, Plasma cutters and other necessary tools. We have a tie-up with DuPont Paints for our paint supplies which is also the supplier to OEMs such as Toyota, VW, Maruti Suzuki, Hyundai, Tata Motors to name a few. We cater to

1. Major Accident repairs

2. Single panel repair and paint, minor repairs like dent removals and painting, touch-up and polishing

3. Complete vehicle overcoat painting and finishing that renders completely new look to the car

We provide cash-less facility for work done through insurance. Our tie-up with insurance companies like Bajaj-Allianz, Bharti-AXA, TATA-AIG, National Insurance, IFFCO-TOKIO, Future Generali, HDFC, L&T, Liberty Videocon, Reliance, Cholamandalam as a preferred workshop in multi-brand segment allows us to provide our customers a hassle free and end-to-end service.
Air Conditioning
High standards of reliability, precision and environmental compatibility must be met whenever work is done on automotive air conditioning systems. For this purpose we have an AC servicing machine that operates fully automatically and can perform a wide range of functions including refrigerant gas extraction, precise refrigerant gas feeding, evacuation and leak testing, UV testing, draining and feeding or recycling of AC compressor oil. At the end of the service the machine prints out all the service details done for customer and technician review.
Car Detailing
Value Added Services (VAS) Shop

Our value added services booth provides you an array of services to choose from to pamper your car. These services include –

1. Exterior wax and machine polishing

2. Teflon (Polymer) coating for exterior

3. Paint restoration

4. Full body and under-body antirust treatment

5. Interior cleaning and shampooing

6. Upholstery cleaning

7. AC disinfectant treatment

8. Glass Polishing

In order to ensure that the right quality and perfection is delivered to our customers we have tied up with German company Wurth which is a brand name in providing above value added services.
Tyre & Wheel Services
Over a period of time the camber, castor and toe-in, toe-out parameters of the vehicle change on account of road conditions and usage. These if left uncorrected back to factory settings can result in excessive and uneven tyre wear. It can affect road handling and ride comfort as well. So it is necessary to check your vehicle's wheel alignment periodically. We provide a complete wheel alignment solution that can check and correct camber, castor, toe-in and toe-out of your vehicle. Our wheel alignment equipment has a database of factory settings of all vehicles and can correct your vehicle's parameters back to factory settings.

Our workshop is equipped with full suite of equipment to cater to any kind of services desired for tyres and wheels for your car. This includes a fully automatic tyre changer, wheel balancer and nitrogen inflator.
General Service & Repair
Our ultra-modern workshop boasts of advance diagnostics, repair and service equipments from Bosch. Our association with Bosch allows us to provide our customers diagnostic and repair capability on par with OEM service centres. We cater to –

1. Regular Maintenance and servicing

2. Full engine and electronic diagnostics using our Bosch KTS 570 ECU scanner

3. Major engine, gearbox, suspension and electrical repairs backed by our strong technical team of skilled technicians and engineers

4. Wheel alignment & balancing using our 6 CCD computerized alignment and balancing machine

5. AC servicing and gas re-filling

6. Battery, starter and alternator servicing using Bosch Auto Electrical Bench

Our principle is to provide our customer a quality service and a trustworthy and honest technical feedback and appraisal in a timely manner at an affordable cost.
SHARE THIS: