Fine dining essentials every one should have
August 2021
SHARE THIS: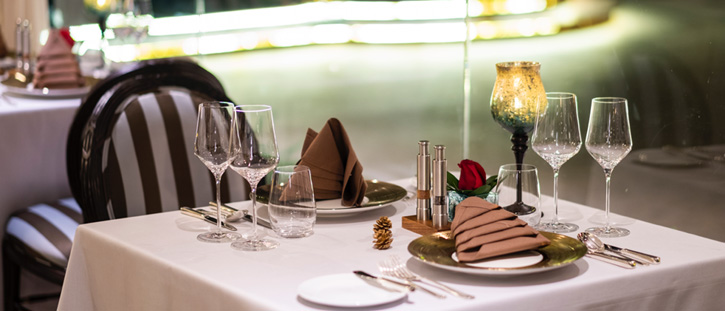 Dining essentials every one should have
he word fine dining instantly evokes a sense of exquisiteness! There's no denying that fine dining is all about a lavish experience of dining with a touch of sophistication.

No wonder, fine dining is a lot more than just indulging in exotic food, rather it is more about the experience than the culinary affair and we often try our best to recreate the same magic at home.

But isn't it bizarre to recreate the magic of luxury with those dull and boring dinnerware? Well, if you too would like to bring home the same voguish vibes and take your dining experience up a notch, then here are a few fine dining essentials that you must add to your selection and make every meal an unforgettable experience.
Pick the right table accessories
The key to add an instant charm to your fine dining experience also depends on the essentials like tableware. Right from the table mats to the table cloths to dinnerware and cutlery, make sure everything is colour coordinated and has a sync of design and style. You can also add some nice metal or wooden napkin holders to add a touch of class to your in-home dining experience.
Gold or silver cutlery set
There's nothing more classy and chic than gold cutlery. Go for a classy set of cutlery and amp your dining experience with these elegant pieces of craft! The cutlery you choose must compliment your dinnerware and is designed ergonomically to ensure the comfort.
Clean tablecloths and napkins
Another essential point to keep in mind, while setting up the table is to make sure that your table cloth, mats and cloth napkins are clean and creaseless. This simply elevates the dining experience.
​Wine glasses
Adding wine glasses to your dinner table can instantly take the dining experience to a different level. Glassware simply adds soul to the whole experience. You can also try adding glass candle holders to make it all look a lot more elegant.
​Look for classy ceramics
If you want to add a touch of elegance to your lavish supper experience, then going for hand crafted ceramic bowls can be a great choice. Make sure you pair similar ceramicware with your cutlery and tableware, and add a classic touch to your dining experience.
Glossy Porcelain plates
Add a swanky touch to your dinnerware by adding these glossy porcelain plates. The glossy appearance of and handcrafted design of these classic plates simply adds on to the experience. What's more, it enhances the overall dining experience
Also Read : 5 foods that help soothe an upset stomach
Source: www.timesofindia.indiatimes.com
Read More About ,Thaneweb - Thane City For More details Call Us On 993011453 Email us at - info@thaneweb.com
SHARE THIS: