Restaurant in Thane Yeour Hills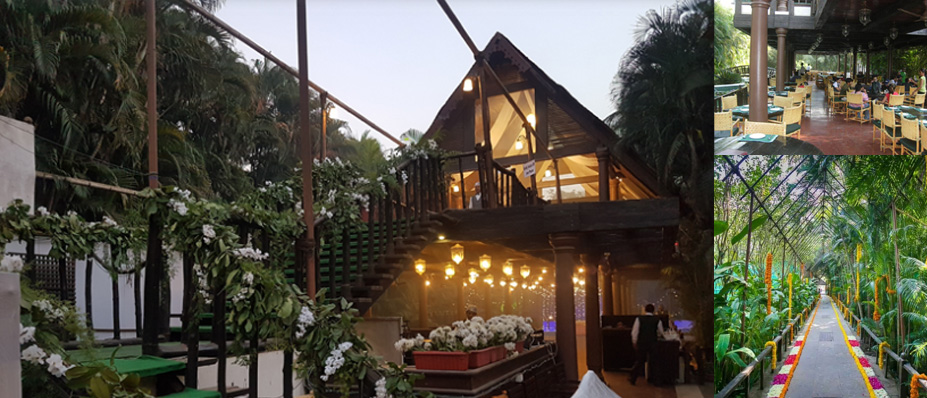 Image Source: exoticaretreat.in
Exotica – The Tropical Retreat
As you step inside our restaurant, you're greeted by a peaceful easy feeling that needs more adjective than there is space here for. Whether this is due to the exclusive interiors of the restaurant, the wood furnishings, the enchanting aroma, exquisite pottery, soft music or the inspired beverages and cuisine, we do not know. The only thing we know is that the entire effect of our restaurant is amazingly calming. It's just like walking into a place, where all your worries and anxieties are just not allowed. Exotica boasts of catering to 500 people at a time collectively at different parts of our restaurant.

Food is an essential part of the renewal process. Be it Vegetarian or non-vegetarian every type is being looked upon very minutely. Cuisine worth leaving home for. From authentic Indian cuisine to delicious continental dishes our cooks will pamper your taste buds and leave you wanting more!.

Exotica is located in the heart of picturesque yeour hills, situated at 1300 feets above sea level. Miles away from the dust, grime & din. The magical atmosphere never fails to bring out the shy poet in you.

Exotica very easily blends with the environment. The ambience here clears the mind & lifts the spirit. As you walk on the wooden planks towards the restaurant, you will experience the lush green grass, a beautiful different types of plantations with rare tropical ferns, orchids, palms, seasonal flowers & other rare flora & fauna species from the tropics. Also one can see a beautiful lotus pond, which blooms alternately in the morning & in the evening. The twittering of birds and a variety of flora and fauna enhance this other-world charm that makes your short stay a tryst with nature and a solace for the soul.

A very natural look is the key to the beauty of this place. It is a place built on the lines of a natural, traditional architecture concept. No stones, walls, ceilings are seen here. Whole of Exotica comprises of wooden structures giving it a refreshing look. Every single thing is being looked upon importantly.


Facilities at Exotica:
Each of the facilities have been designed to induce relaxation, peace and fulfillment. Yes we know it's a long drive.Nurse a cool drink from 'The Ginger Lounge' the Lounge at Exotica. Then proceed to wringe your stress from those tired muscles in 'the Hothouse' our Steam and Sauna Rooms. All this is sure to build an appetite Go on to a have a few more drinks or attack the authentic Indian, Chinese or Continental cuisine with gusto at our restaurant. If nothing else does then the food is sure to bring you back again and again. Cooked with authentic spices, in clean environment and with a lot of care - the food here compares to the best kitchens. What really adds to the ambience is Exotica's uniqueness are the pandals built amidst the lotus ponds where classical artist perform live sometimes Indian Classical, or exotic Japanese or Thai music, whatever it is it will surely be a lifetime experience.
Exotica: An Ideal place for Destination weddings !
A wedding is not just an event but an experience that will create a life time memories, so why spend one of the most important days of your life cooped up in a banquet hall or a ballroom ? we invite you to give yourself and your guests an Exotic Wedding Experience @ the Royal Exotica.. The Royal Exotica is located in the heart of the picturesque Yeour Hills in Thane (Mumbai), and is situated 1300 feet above sea level. Just a few kms away from the city, it seems like thousands of miles from the dust, smells & din of everyday life.

Characteristic of another place or part of the world. This is "Exotica". A place alienated from the city & located amidst the luscious green beauty of the Yeoor hills above 1300 fts. from the sea level. An advantage that no other restaurant in Mumbai can boast of. Exotica is like a glowing gem nestled in a lush tropical garden, a paradise of birds & butterflies. In this lap of nature is a heaven of manmade luxury. Exotica is about mind-blowing, delicious gourmet cuisines wherein the effort behind it is to cultivate the art of savoring such food. Exotica is designed to gratify each of your senses – eyes, ear, nose, touch & taste. It is the perfect get-away for friends & family longing to experience the serenity of lush greens & lazy evenings. It is a place offering scrumptious cuisines, spectacular views, enviable rooms, party place, pool-side restaurants, musical evenings and comfort like you have never experienced before. Exotica Tropical Retreat is also suitable to host conferences, meetings & formal engagements. Come with us and we take a stroll through this magical wonder.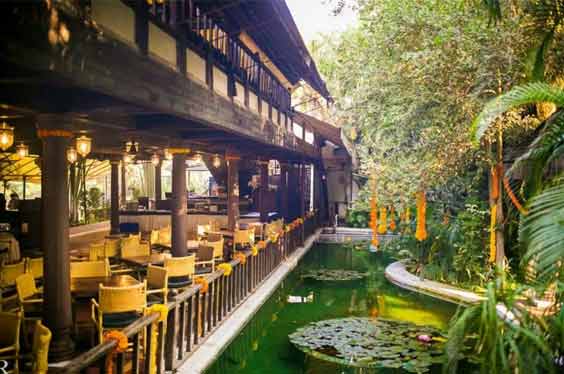 Image Source: exoticaretreat.in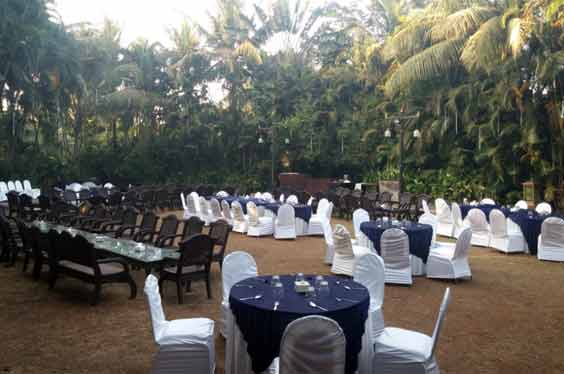 Image Source: exoticaretreat.in
SHARE THIS: