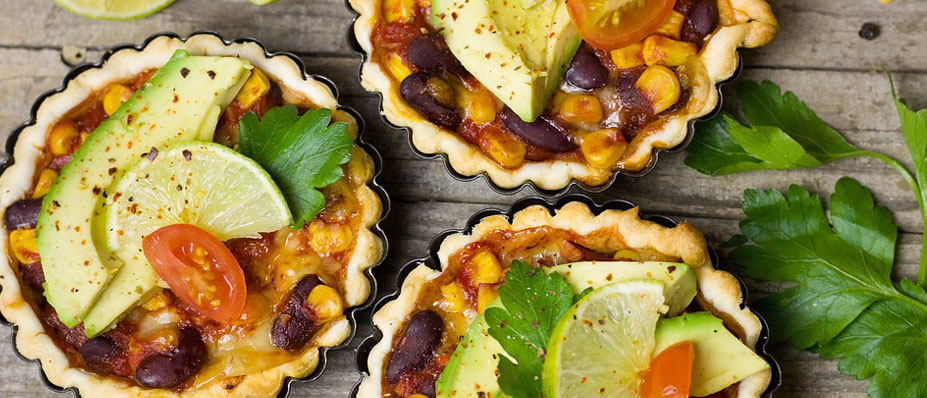 Image Source: pixabay.com
Mexican food has become part of the American cuisine for many reasons: The United States is located next to Mexico and naturally Americans want to try their neighbor's food; a growing percentage of the U.S. population comes from Mexico, bringing their cuisine with them; Mexican food is promoted when we celebrate Cinco de Mayo; and of course, Mexican food tastes great.
We visited a wide range of Mexican restaurants in the United States to find out what Mexican food in America really is. We came up with a list of the most popular Mexican food dishes served in America. We present them here with definitions and in alphabetical order. This is your Mexican Food 101 lesson. To be well prepared for your next visit to a Mexican restaurant, we also recommend that you look over the Mexican food glossary further down on this page.
Burritos
What is a burrito? A burrito is a large flour tortilla, filled with rice, beans and some kind of meat, like ground beef or shredded beef, pork or chicken. In addition, it is filled with different things such as lettuce, tomatoes, black olives, cheese, and onions. Burritos can be topped with guacamole, sour cream, pico de gallo, and/or salsa.
Chimichangas
What is a chimichanga? If you take a burrito and deep fry it, then you get a chimichanga. Deep-frying it in vegetable oil makes it crispy and it's usually served with rice and beans on the side. Topping it with melted cheese, lettuce, tomato, guacamole and sour cream is also common.
Enchiladas
What is an enchilada? Enchiladas are thin rolled corn tortillas with different things inside like beef, pork or chicken, cheese, Mexican Rice, and more. Usually served with beans and a mole sauce such as tomatillo sauce.
Fajitas
What are fajitas? Marinated chicken, steak or shrimp together with onions, green peppers, tomatoes, and other vegetables are grilled on a special skillet. When cooked, it is rushed out to your table served sizzling hot in the skillet it was cooked on. It is served with flour tortillas, guacamole, pico de gallo, sour cream, rice and beans. You then fill your tortilla with all the goodies and make it just right for you.
Flautas
What is a flauta? A flauta is a large flour tortilla rolled up tightly with chicken, pork, or beef, and cheese inside. It is then deep fried until crisp. Top with sour cream, a good mole sauce, and some onions. (Taquitos are the same thing as Flautas, but with corn tortillas.)
Nachos
What are nachos? Nachos are crunchy tortilla chips topped with all kinds of goodies. Toppings include beef, chicken, different kinds of cheese, guacamole, sour cream, jalapenos, pico de gallo, salsa, and olives. Usually served as an appetizer, but sometimes as the entree.
Tacos
What is a taco? A taco is a corn or flour tortilla filled with beef or chicken and vegetables such as lettuce, tomato, onion, and peppers. There are two kinds of tacos. Soft tacos made with flour tortillas, and crisp tacos that are usually corn tortillas fried in oil to make them crisp. Toppings include cheese, guacamole, sour cream, and pico de gallo. Also served with popular side dishes such as beans and Spanish rice.
Tamales
What are tamales? Tamales are usually corn dough filled with beef, pork or chicken, cheese and vegetables, wrapped in a cornhusk and then steamed or boiled. Although tamales are served in the cornhusk, you should not eat the husk.
Taquitos
What is a taquito? A taquito is basically the same thing as flautas described above, but with corn instead of flour tortillas. Taquitos are also sometimes smaller than flautas and may be filled with different sauces before being deep-fried.
Tostadas
WWhat is tostada? A tostada is a flat crisp corn tortilla, topped with goodies like beef, pork or chicken, lettuce, tomatoes, cheese and so on. Tostadas are very similar to tacos, except the tostadas' tortilla is laying down flat instead of being folded.
Quesadillas
What is a quesadilla? A quesadilla could be called a Mexican cheese sandwich. It's a flour tortilla with grated cheese that is cooked on a griddle or in a skillet until the cheese is melted. Other goodies are often added before cooking, such as beef or chicken, onions, mushrooms, cilantro, tomatoes, black olives, red and green peppers, green onions and more. It is usually topped with guacamole, sour cream and salsa.
Mexican Food Glossary
Sometimes Mexican restaurants in America like to describe their dishes with Spanish terms to sound more authentic. We have compiled a list of the most common Mexican food words in our Mexican food glossary below:



Arroz amarillo - yellow rice
Arroz con lima - rice with lemon
Arroz Español - Spanish rice
Arroz verde - green rice
Bolillos - salty bread
Calabaza - squash
Camaron - shrimp
Camote - Mexican sweet potato
Carne - meat, beef or pork
Cerveza - beer
Chayote - a type of squash
Chicharrones - deep-fried pork rinds
Chilorio - meat filling
Chorizo - sausage
Cilantro - an herb
Comida - meal
Conejo - rabbit
Consomme - broth
Cordero - lamb
Costillas - ribs
Cotija - aged cheese
Crema - cream
Cuitlacoche - fungus
Decebrada - shredded meat
Dulce - candy
Elote - fresh corn
Ensalada - salad
Ensalada de fruta - fruit salad
Fideos - noodles
Frijoles - beans
Frijoles negros - black beans

Frijoles pintos - pinto beans
Frijoles refritos - refried beans
Guacamole - mashed avocado
Guajillo - dried chili
Harina - flour
Helado - ice cream
Hueso - bone
Huevo - egg
Langosta - lobster
Leche - milk
Lechuga - lettuce
Legumbre - vegetable
Licor - liquor
Maguey - agave nectar
Mariscos - seafood
Masa - dough
Menudo - soup
Mole - sauce
Nixtamal - corn kernels
Nogada - walnut sauce
Papas - potatoes
Pasilla - black chile
Pato - duck
Pavo - turkey
Pepitas - pumpkin seeds
Piñones - pine nuts
Postre - dessert
Salchicha - sausage
Salsa - sauce
Sopa - soup
Vino - wine
Source: http://researchmaniacs.com/
SHARE THIS: