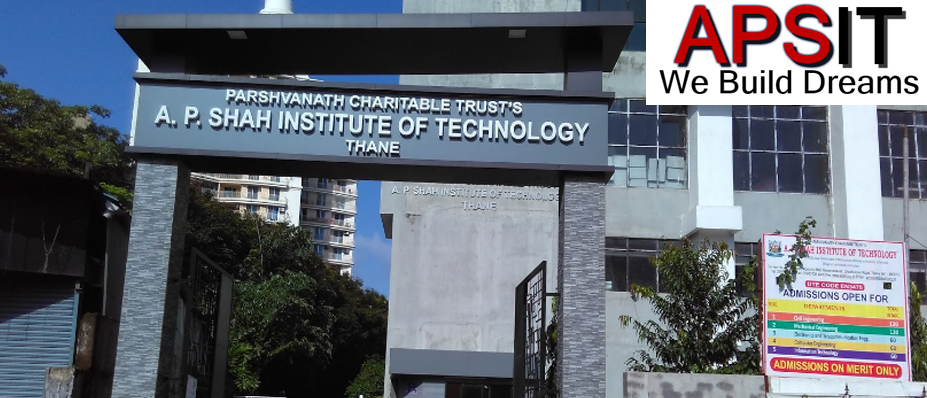 Image Source:www.apsit.edu.in
About us

Late Shree Ashokbhai P. Shah
Founder, Parshvanath Charitable Trust A. P. Shah Institute of Technology (APSIT) has started functioning with commitment of imparting state of art technical education so as to inculcate conceptual know-how, analyzing skills, decision making abilities and leadership qualities in the students. APSIT stands committed to the intellectual and moral growth of every student.

APSIT has experienced and proficient team which aspires to unlock the hidden potential in subconscious minds of students and to create competent Engineers with vision & social commitment.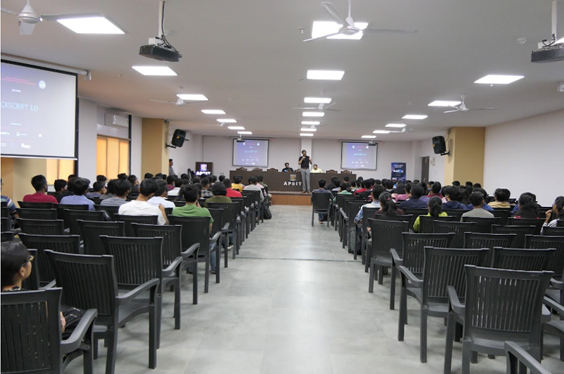 Image Source: www.apsit.edu.in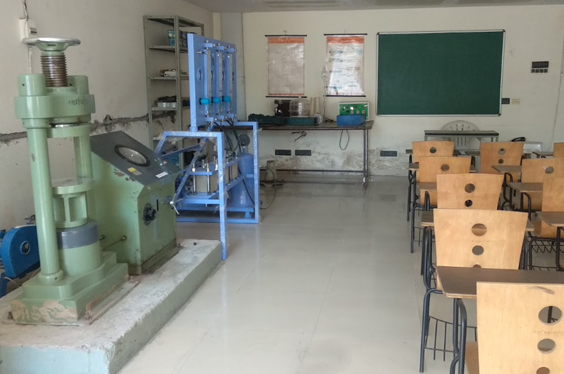 Image Source: www.apsit.edu.in
Vision:
APSIT aspires to be a premier institute producing globally competent engineering professionals to contribute towards socio-economic growth of India.
Mission:
To provide conducive and collaborative environment to meet contemporary & future Engineering challenges by project based and value-added education with the support of trained faculty.
Our Team
Principal Dr. Uttam D Kolekar
It is my privilege to welcome you to the website of our Institute, dedicated to the quality technical education with all round development of the students to be competent professional Engineers of tomorrows to serve the society. We have exemplary infrastructural facilities, well equipped laboratories, separate computer center, the team of highly qualified faculty and the exhilarating atmosphere in the campus will surely take you to enviable heights in your capabilities and achievements.

We have research oriented, challenge seeking, well qualified and devoted faculty to train the students in quality technical education. The ultimate aim of our management and staff is to get higher percentage to our students and place them in multi-national companies. We conduct Seminars, Workshops, STTP, National and International conferences to update the development in science technology.

I believe that the institute will continue to produce competent technocrats and managers who will make significant contribution to the corporate world and industries all over the world which will enable them to serve as global citizens.
Dean Academics, Prof. Atul M. Deshpande
We have learning management system called as moodle(The e-learning Software). Faculty members can upload their ppt, notes, question banks, solutions, even attendence on moodle. Student can access all the uploaded material either with pc or with mobile. Adoption of best practices like e-learning & online tests has ensured best academic results in University
Dean Admin, Dr. Sameer S Nanivadekar
We are the youngest NBA accredited Institute in all our disciplines. We believe in continuous improvement and feel intense responsibility towards students, staff, faculty and our community.

We ensure precise and efficient administrative activities with environment friendly online administrative procedures. Coordinating the development of and implementing the Institute's Vision and Mission Statement in liaison with the staff and faculty to achieve the holistic development of the students.

APSIT students are top class performers and distinguished experience for many reasons. APSIT Skills Centre has numerous global technologies with international certifications to enhance a student's employability and professional development. 40 plus industry collaborations of APSIT Skills centre empower students with current technological knowledge that can help them to adapt to the demands of the global marketplace.

APSIT skills internship program assists students to have hands on training and practical experience, enhancing their personality, networking and taking them closer to reality.

APSIT's Institute Innovation Cell (APSIT IIC) is dedicated to fostering a culture of innovators, entrepreneurs and partners across APSIT, and supporting the advancement of their innovations towards the benefit of society.

APSIT DISHA is a web portal for MHT-CET chapter wise questions with practice tests for 11th and 12th students. Aspiring engineering students of Maharashtra could use this portal anytime and anywhere.

In addition, we strongly believe that extracurricular and co-curricular activities strengthen the process of learning by teaching students the value of hard work, discipline and fair play. We encourage students to participate in Ojus Cultural and Sports fest, APSIT Talent Fest, APSIT IEEE chapter, Foreign Language training, Mac Club etc.

It gives me immense pleasure to welcome you to be an APSIT member. We would like to invite you to explore our website and reveal plentiful information about APSIT courses, training centres, student clubs, student chapters and many more.
Heads Of Departments:
Prof. Atul Deshpande, Extc
Prof. V S Rao, Mechanical
Prof. Upendra Mate, Civil
Prof. Sachin Malave, Computer
Prof. Kiran Deshpande, IT
Dr. Shivshankar Kore, HAS
Parshvanath Charitable Trust
A. P. Shah Institute of Technology is managed by Parshvanath Charitable Trust (PCT) which was established in November, 1993, under the leadership of Late Shri Ashokbhai Shah.

PCT is committed, to provide all the world class facilities, infrastructure, technology and the appropriate environment to the students to achieve their goals of becoming successful professionals in the present era of globalization.

The trust aspires to develop APSIT which will be recognized all over the globe as one of the prominent and authentic centres of technological training & research.
Board Of Trustees:
Shri. Chirag A. Shah,     Chairman
Shri. Niranjan P. Shah,     Secretary
Smt. Neela A. Shah,     Trustee
Smt. Pooja C. Shah,     Trustee
Shri. Kunthal N. Shah,     Trustee
Shri. Minesh N. Shah,     Trustee
Hon'ble Shree Chiragbhai A Shah
A. P. Shah Institute Of Technology is governed by Parshavnath Charitable Trust which was founded by my father Hon'ble Shree Ashokbhai P Shah in 1993. To run an engineering college in the trust my father had a dream that a person who comes to Mumbai, he can study in a good institute with a very low fees.
Hon'ble Shree Niranjanbhai P Shah
PCT's A P Shah Institute of Technology, Thane is committed to create an environment which is most conductive to the overall personality of the students.
Address :Survey No. 12, Opp. Hypercity Mall, Kasarvadavali, Ghodbunder Road, Thane West, Thane, Maharashtra, India 400615
Contact No : 022-25973737 / 77383 05400 / 77389 40600
Email : deanadmin@apsit.edu.in
Website : www.apsit.edu.in
Created On June 2021
SHARE THIS: