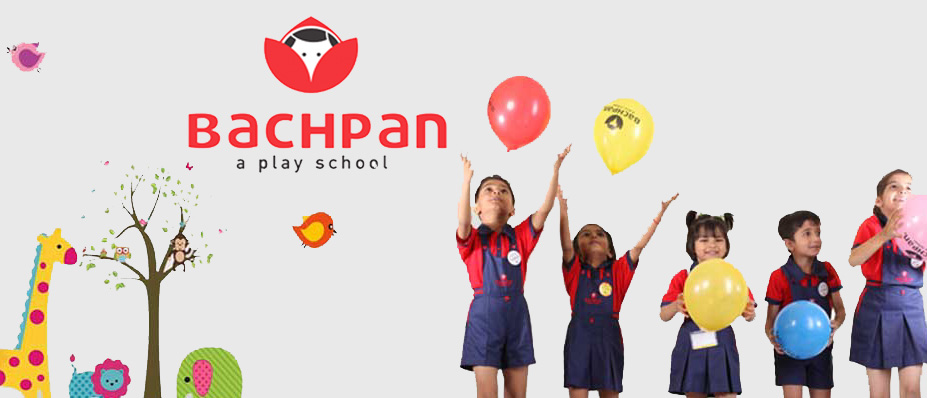 Image Source: bachpanplayschoolthane.in
About Bachpan
Established in the year 2004, under the flagship of S.K Educations Pvt. Ltd.
An ISO 9001:2008 Certified educational organisation
Caters to the educational & upbringing needs of children between 1.6-6 years of age
Having a network of 1100+ branches nationwide in 24 states
Our Philosophy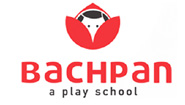 We believe that early childhood should be a period for the child to indulge in recreational and pleasurable activities. We provide a constructive and organised learning environment where the child is introduced to indispensable learning methods such as self-exploration and realisation. Toddlers are naturally very impressionable, curious and creative. We, at BACHPAN, constantly strive to further nurture these fundamental characteristics in our children through playful learning.
Our Vision
Inspire curiosity, independence and love for learning to help children become contributing members of the society.
Our Mission
Create a nurturing and play-based environment, build children's self esteem and problem-solving skills, while fostering respect for self and others.
Our Values
Caring, Sharing, Love, Respect, Fun and Transparency.
The Director
Dinesh Agarwal, an Engineering graduate in Mechanical stream and post graduate in Industrial Engineering. Having 30+ years of experience in Human Recourse Management and Industrial Engineering with India's large and reputed Corporate Houses viz Tatas, Reliance, Dr Reddy's Lab, Eicher Motors. Passionate in building child's future by inculcating right values and enhancing creativity in them. Believes in giving freedom to every child to explore and learn. Has started Bachpan, Thane branch in 2013. Does coaching and counseling for senior level corporate executives.
Center head
Jesal Gandhi (MSc. in Human development, Specialization in Child Development) has work experience of 9 yrs in field of education. As an educator, she believes that every child learns in her/his own individual way, has an innate urge to explore, discover and then understand. Teachers should be independent thinkers with their own processes of learning. Center head is a role model, mentor, guide and friend for the teachers, she says.
Teachers
At Bachpan, we take great pride in the exceptional quality of our teachers. We seek out individuals with love for children, a passion for learning and an ability to teach. They are professionally qualified (minimum graduation with ECCEd certification) and experienced. Teachers are selected through a rigorous recruitment process. On joining our pre-school, they undergo extensive training designed and delivered by Bachpan cooperate team, followed by regular trainings and coaching throughout the school year. They establish specific goals for each child, as well as HOW they will achieve them.
Curriculum
We have a Play way Method of learning with a blend of international methodologies viz kindergarten method, learning with Montessori Kit and other teaching aids and concept rooms. Bachpan, has always believed in technological advancement for our kids & parents. We have all new & unique learning tool by means of speak-o-kit. There is a speak-O-pen which can read out, sing, pronounce or say rhymes, as soon as we touch it to the printed matter on the speak-o- book.

The core of the curriculum is the thematic rooms which give live & life experiences. Each room is built with a theme and a concept that enables child to associate with, appreciate and learn from the environment.

The curriculum comprises a variety of creative activities in different areas of child development to help in learning with interest and for a long lasting retention.
Features
Staff members trained in safety aspects
Child-friendly spaces
Arrangement of classroom in a way to have total visibility of children
safe storage and warming of food
Safe outdoor play area
Chemicals kept under locked and away from the reach of children
Inspect for environmental hazards regularly
Emergency plans are in place
Well established safety rules
CCTV monitoring
First-aid trained staff
Daily cleaning and inspection of toys and equipment
Play area attendants
Tie-ups with pediatricians
Our friendly front desk staff, caring teachers and attentive Center Head are available to answer your queries and take for the school tour.
Timings : 8:30AM–8PM
Address : H-1, Aggarwal Estate, Chitalsar Manpada, S.V. Road,, Manpada, Thane West, Thane, Maharashtra 400610
Contact No : +91 9987010578
Website : bachpanplayschoolthane.in
Created On Jan 2020
SHARE THIS: