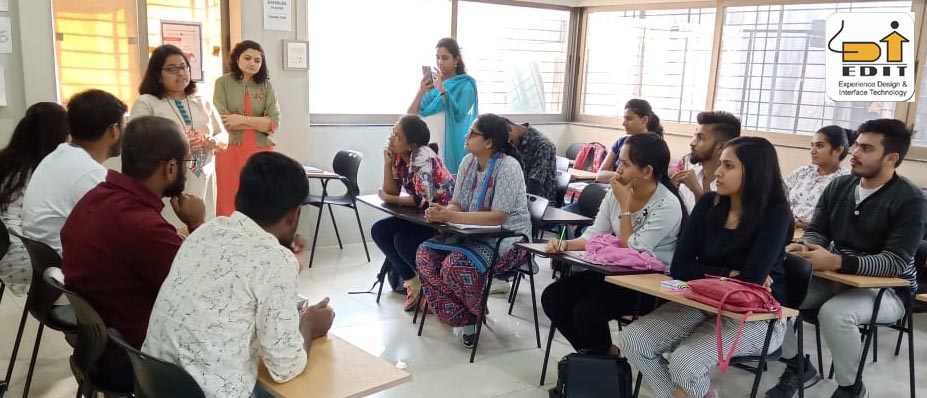 About EDIT
EDIT, Design Training Institute established in year 1990 is having 30 Yrs of Experience in the field of Training in Graphic Design, Web Design, UX Design & UI Design for Mobile App and Responsive Websites. Our unique Aptitude test a systematically checks the Creative Aptitude, Logical Ability & Communications Skills of the student & according to his/her interest and aptitude, we guide the student for appropriate career course. Our training in UX/UI Design is based on the current industry requirements and helps students to get a job immediately after completing the course. We believe in student learning by making mistakes while doing their projects and making their industry ready portfolio. This industry ready portfolio not only helps fresh graduates to enter the industry, but it also benefits professionals to enhance their career prospects and also entrepreneurs to do their businesses or embark upon new startups.
Courses
1. Diploma in UX/UI Design
With Live Interactive Sessions on PC
Duration - 4.5 months
Course Content
Mode
Sessions
Training
In Class / Live Sessions at Home
34
Portfolio Project
Practicals
(34)
Industry Connect Program
Webinars
16
Total No. of sessions
50
Total (Including Portfolio Project Sessions)
(84)
About UX/UI Design
UX Design - 6 Sessions
In this Module, you will learn complete UX Process for designing Mobile App Experience & Responsive websites. This process involves User Research, Creating User Personas, Information Architecture, User Flowchart & User Journey by making low fidelity wireframes.
Usability in UI - 6 Sessions
In this module, you will learn Interaction Design, Usability Principles, Platform Guidelines and create prototypes with medium fidelity wireframes using Adobe XD Following with Usability Testing phase & Live Project.
UI Design - 22 Sessions
In this module, you will learn converting Medium Fidelity wireframes in to usable High Fidelity Designs. This process will train you knowing Design Principles, Adobe Photoshop, Illustrator & XD for designing Mobile Apps and responsive websites. Your designs will follow Material design & other design frameworks.
Portfolio Projects
In this course you will learn & design 3 different projects which includes:
Mobile Apps


Responsive Websites


Live Project
Industry Connect Programs
Industry Connect is a 16 sessions program which helps students make Industry Ready Portfolio.

A. Add on skills (8 Sessions) - 1. Google Tools for UX 2. HTML 5 & CSS 3 3. Responsive website coding with bootstrap 4. SEO 5. Photoshop & Illustrator 6. Advance tools Intro to Figma & Sketch 7. Logo and Icon design with Color, Composition & Typography 8. Intro to Invision, Balsamic & UX Pin

B. Industry ready portfolio by expert (4 Sessions) - 1. Portfolio of the month (2), 2. Industry best practices (2)

C. EDIT live project (4 sessions) - Students will execute Live Projects using UX/UI tools under industry experts
2. Graphic Design
With Live Interactive Sessions on PC
Duration: 20 Sessions (2.5 Months) Each Session is of 2 Hours.
About Graphic Design
Graphic Designing is a core foundation skills in Digital design career. These skills will help you in Drawing, Layouting, Typography & Photography. It is an important skill required in visual communication.
Tools Covered
Adobe Photoshop
Adobe Illustrator
Course Highlights
1. Training
Quality training by industry experts on latest UX/UI trends & technology.
2. Learning Material
Online reference material through LMS (Learning Management System)--Anytime, anywhere
3. Projects Portfolio
Design top quality Portfolio under guidance of UX/UI industry experts.
4. Placements
Lucrative placements in MNCs, Media agencies, IT, E-Comm & Design Companies
Why EDIT LIVE Online Learning?
It's not recorded online program. But it's live, interactive program.


Individual attention, as batch is of small size


You are making portfolio, required by the industry, from Home


Learning Management System (LMS) of EDIT LIVE
LMS helps you to learn from anywhere & anytime.
All classroom sessions are available on LMS for revisiting the earlier session to clear your doubts, if any.


Reference material is available on LMS which helps you make projects comfortably at home.


Using LMS, you can upload your project which will be graded by your faulty online.


Training Institute : Experience Design & Interface Technology
Thane Address : 3rd Floor, Jaishree Apartments, Gokhale Rd, opp. Alok Restaurant, Thane West,400602
Head Office : 203, 2nd Floor, Ramkunj CHS, R. K. Vaidya Road, Near Saibaba Mandir, Dadar(W), Mumbai 400 028
Contact No : 022 2537 9610
Website : edit.co.in
Images Are Taken From : edit.co.in
Created On March 2021
SHARE THIS: