December 2019
SHARE THIS:


Image Source: tenderbuds.in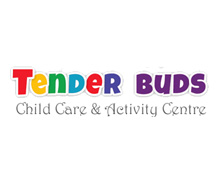 About Tender Buds
The Tenderbuds's story began in 2011, when two college friends ran into each other at the airport. Over a cuppa, they reminisced about the past and discussed plans for the future. It was just the right blend of competencies: finance and strategy, operations and educational sector knowledge as well as training and marketing. Soon, the first centre opened its doors.


Image Source: tenderbuds.in
Every child has unique potential. In a nurturing, secure environment, every child can flourish. Children learn best through play, experiential situations and people interactions. We strive to make your child's preschool years full of the joy of learning. We recognize that this is where your child's first social interactions take place outside the security and comfort of the home. We work hard to make sure the preschool experience creates confident and curious young learners.

The Tenderbuds's Preschool and Day Care offers world-class curriculum, well-trained teachers, top-of-the-line infrastructure, school meals planned by a nutritionist and the security that every child deserves. Our centres provide developmentally appropriate activities for each age group, while creating a personalized curriculum with activities planned for the enhancement of specific skills that meet the needs of each child. To the parent, we offer complete peace of mind that your child is happily occupied, learning well and is cared for in a professional and secure environment.

But don't take our word for it. See what the parents of our students have to say about The Tenderbuds.
Mission
To provide children with a happy and secure environment that fulfills their physical, emotional, social and psychological needs.
Vision
To focus on the holistic development of children through activity based learning.
Values
Honesty, Excellence, Accountibility, Respect, Team Work
Curriculum
The first few years of learning have the greatest impact on a child's lifelong development; therefore The Tenderbuds approach is to introduce the child to new concepts and ideas in an engaging manner.

Our curriculum revolves around the concept of 'multiple intelligence', that each individual posses a unique blend of eight types of intelligences. These eight types of intelligences relate to a natural ability with words, numbers, painting, music, physical activity, nature, people, and the sense of self.

Following this model, we have designed a 3-hour school schedule in which children have time for honing their natural ability with plenty of learning activities, physical activities, music and movement as well as time for meals or snacks. When children enjoy what they are doing, they learn faster and grasp concepts better. At the Tenderbuds classrooms, the learning journey traverses play, activities and fun.

Your child will discover the joy of learning!

The Tenderbuds curriculum and activities are designed for the holistic development of the child – physical, social, cognitive as well as emotional development. By planning activities that allow the child to explore the physical environment, exposing them to music everyday, engaging them in group activities as well as allowing time for child-directed activity, we ensure your child develops into a well-rounded individual.
Infrastructure
Preschool classrooms should encourage children to learn through interactive play and provide them with a variety of hands-on learning activities. Our classrooms are spacious and can be used to set up various activities and are always in a state of transition to arouse curiosity and give children different educational Experiences.

Space : All our centres are spread across 2500 square feet or more. We have enough space for children to play and learn. All centres are situated in an location which is easily accessible and the classrooms have a lot of light and ventilation. Even if they are OPEN PLAN, BUNGALOWS or ON FIRST FLOOR they have provision for

Pretend Play : Our dramatic play center is open and placed usually near the front office /reception so as children enter they can play and interact with it. Usually we have children pretend playing all the time. All our centres have BLOCKS table, Kitchens and in some we may have a supermarket or Puppet station as well as Doctors station occupying pride of place. Child love to pretend play so we keep taking our movable pretend stations in the classrooms and ensuring rich learning's! Supermarket, Block station

Outdoor Area : All our preschools have an outdoor area or an indoor outdoor area. This area is equipped with children play stations like 8 in 1 playground, JUNGLE GYM, TAMBOURINES and has enough space for free outdoor play and also set up of obstacle course, balance beam parachute play etc.

Bringing Outdoors Indoors : Ideally children should go outside every day. In reality, there are days when the weather just doesn't let that happen. We understand we need to make sure there are gross motor activities for inside, though this "center" may be kept in the closet until appropriate times, as it can be space consuming and difficult for children to not use during curriculum times. Some great indoor activities such as Obstacle course, Balance beam, Bowling and Parachutes are present at every centre.

Classrooms : A preschool classroom needs to be educational, safe, and engaging. Our classrooms are multifunctional attractive large engaging and safe spaces. We may have open classrooms at some centres and rooms in some other centres but any centre you go to the idea is to have spacious open spaces and no clutter. If you peek into the classroom while children are present, it doesn't feel the least bit crowded. Everything is open, and yet you get a feel for what each space is for.

All our preschool furniture i.e., tables, chairs, storage units, are all designed and selected to support young children's independence in routine care, play and learning activities.

Stairs : All the stairs in the centre have protective gates and are carpeted with child height railings PHYSICAL PLAY – INDOOR or OUTDOOR.

Washrooms : Child friendly and child sized washrooms and basins fitted at child heights Separate washrooms for children and adults

Toys Manipulatives : These toys and activities can take many forms, but many are fine motor toys. We have different types of blocks not just the classic Lego, we have foam, wooden blocks and so many other construction toys. Blocks are not only great for fine motors but very popular with children! Pattern toys, such as multicolored bears or shape blocks are great for spatial understanding.

Kitchen : Fully equipped kitchen is present in every centre and children are served freshly prepared hot nutritious food – the menu for which is planned by a nutritionist.
Safety and Hygiene
Children in the age group of 18 months to 6 years are just developing their immunity and the environment that is meant for them has to be designed with care. It is also important that the center is SAFE AND HYGIENIC for them. At the Tenderbudswe take this very seriously.

We have a team that is responsible for cleaning the center – floor and washroom and a separate team of attendant who look after the children's washroom, supervising and cleaning needs over and above the teachers present in the class. We also have a system of checking and monitoring the cleanliness of the washrooms and premises throughout the school day. We have child friendly washrooms and washbasins separate than adult wash and toilet areas.

We have daily temperature check by non contact thermometer at entry for children along with yearly doctor and dental checkups for children..
Source: tenderbuds.in
Address : Office 002, 1st Floor, Above ESAF Bank / Ankit Sports, Eucalyptus Building, Ghodbunder Service Rd, Manpada, Thane West, Thane, Maharashtra 400607
Phone : 91 9820129617, 91 9821468600
Email : tenderbudsthane@gmail.com
Website : tenderbuds.in
Last Updated On December 2019
SHARE THIS: