About VPM's Polytechnic
Vidya Prasarak Mandal's Polytechnic was founded in 1983 by a group of dedicated and philanthropic visionaries of Vidya Prasarak Mandal, Thane and was subsequently recognized by All India Council for Technical Education (AICTE), New Delhi. In its constant endeavour to impart Quality Technical Education, Institute is one of the self financed Polytechnics in the Mumbai subregion to get all the Four eligible Diploma Programmes accredited by NBA, New Delhi for a period of Three years w.e.f. 19/03/2004.

Presently all the Five Diploma Programmes are again accredited by National Board of Accreditation, New Delhi for Academic years 2017-18 and 2018-19 valid upto 30/06/2019. Institute is privileged to be adjudged as the winner of ISTE-Narsee Monjee Award for VPM's Polytechnic having Best Overall Performance in Maharashtra State for the years 2009 and 2015. Polytechnic also received ISTE Best Chapter Award among Maharashtra and Goa Sections during the year 2009 and 2017.

VPM's Polytechnic believes in student centric approach to ensure all-round development, acquiring skills through the principles of outcome based education. The Institute offers very conducive environment for effective teaching-learning process, assignments, micro, mini and major projects, participation in intra and inter Polytechnic events.

Institute has established credibility over the Three decades especially with experienced faculty, state-of-the-art infrastructure and commitment towards the goals established.
Vision Mission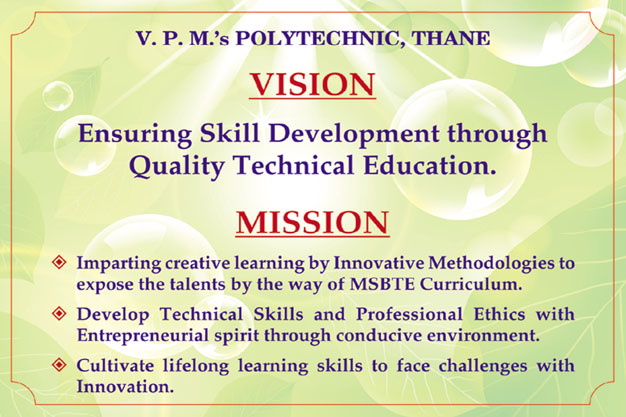 Salient Features Of VPM's Polytechnic
1. Year of Establishment : 1983
2. Status : Self-Financing (NO-GRANT basis)
3. Campus Area : 13.5 Acres (5 Acres for Polytechnic)
4. Polytechnic Area : 11,200 Sq. Meters
5. Accessibility : 0.25 Km. From Bus Stand and Railway Station.
6. Peaceful Campus : Green Belt around the college buildings known as Jnan – Path

VPM Polytechnic Timings : 8:00 am. to 8:00 pm.
About Principal of VPM's Polytechnic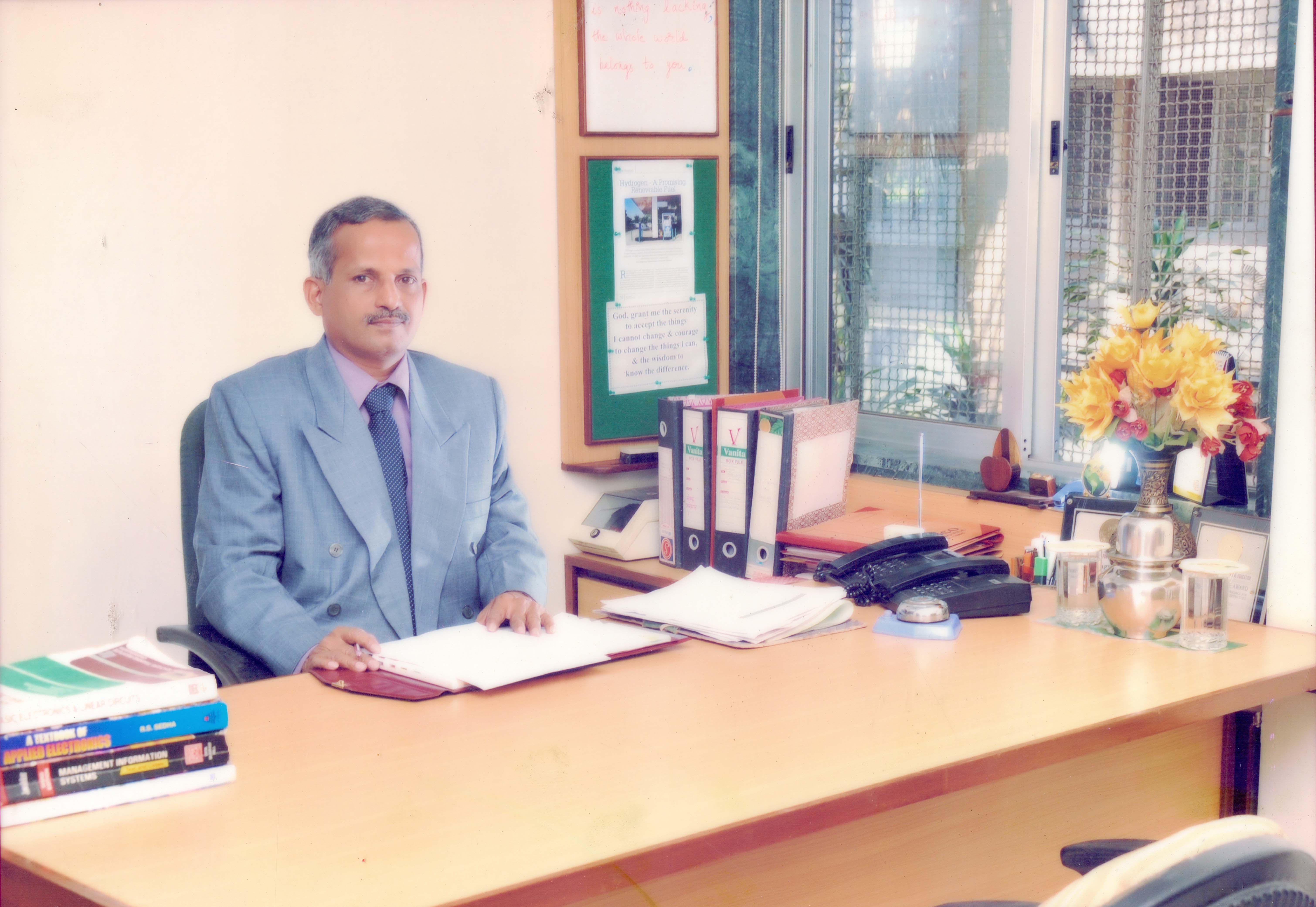 Dr. D. K. Nayak, Principal of VPM's Polytechnic

Prof. Dileep Kumar Krishna Nayak, is awarded Ph. D. (Technology) in Electronics Engineering from VJTI and University of Mumbai. His area of research is 'Fuel Cell Power Conditioning and Hydrogen Storage studies of Ammonia Borane'. He Completed doctoral work under the guidance of Dr. H. A. Mangalvedekar, Prof. Electrical Engineering Department and Dr. S. K. Mahajan, Jt. Director, Technical Education Govt. of Maharashtra.

Dr. D. K. Nayak, Principal of VPM's Polytechnic is nominated to receive Indian Society for Technical Education (ISTE) - Ranganathan Engineering College National Award for Best Polytechnic Principal for the year 2014. The presentation of the award will be made during an Inaugural Function of the ISTE 44th Annual Convention on 27th November 2014 at College of Engineering, Trivandrum Kerala.
Courses Offered by VPM's Polytechnic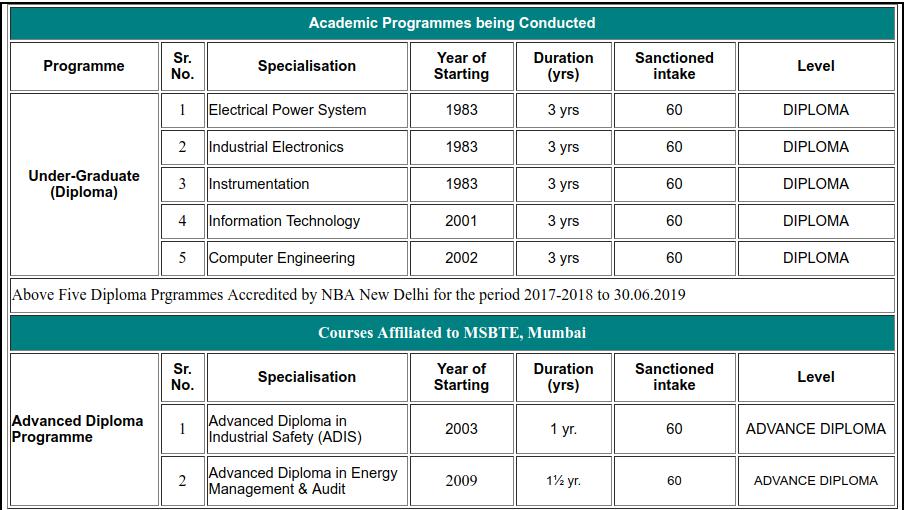 Entrepreneurship Development Cell
VPM's polytechnic has the privilege to start an Entrepreneurship development cell in the academic year 2011-12. In today's world, the number of engineers passing from engineering schools every year is a very large number. Providing jobs to these engineers by various agencies is a huge herculean task. Hence we find under- employment in our country. To overcome the shortcomings of employment, self- employment is another option. There is a need for students to know the nitty- gritty of starting an enterprise of their own. They will not only work on an area of their interest, but may also create employment for few others. The entrepreneurship Development cell proposes to encourage, motivate and provide training for the students who wish to become entrepreneurs later in life

Entrepreneurship Development Cell strives to inspire and generate a culture of innovation which will help students and budding entrepreneurs to realize their own enterprise.

The short term and long term objectives of the cell are as follows

Short Term of VPM Polytechnic

1. To train and equip the students with the knowledge and resource that might be needed to build start ups.
2. To conduct:

Entrepreneurship Awareness Camp (EAC).
Entrepreneurship Development Programs (EDP).
Faculty Development Programs (FDP).
Skill Development Programs (SDP).
3. Conduct a variety of competitions round the year for incubating nascent ideas and providing mentorship to budding entrepreneurs.
4. Building entrepreneurs - orient students towards entrepreneurship since this is the phase of life where dreaming about their goals in life begins.
5. Every year Technology day will be organized to bring synergy between industry and institute. Two original projects from each department will present their ideas. The cell will try to build relationship with a few industries to take these ideas forward.
Long Term: of VPM Polytechnic
1. To assist students in starting industries of their own right from:
Product identification.
Market survey, tools for market research.
Preparation of project reports.
Assist them in getting technical feasibility reports.
2. Consultancy and research.
3. Training programs for industrial professionals.
Infrastructure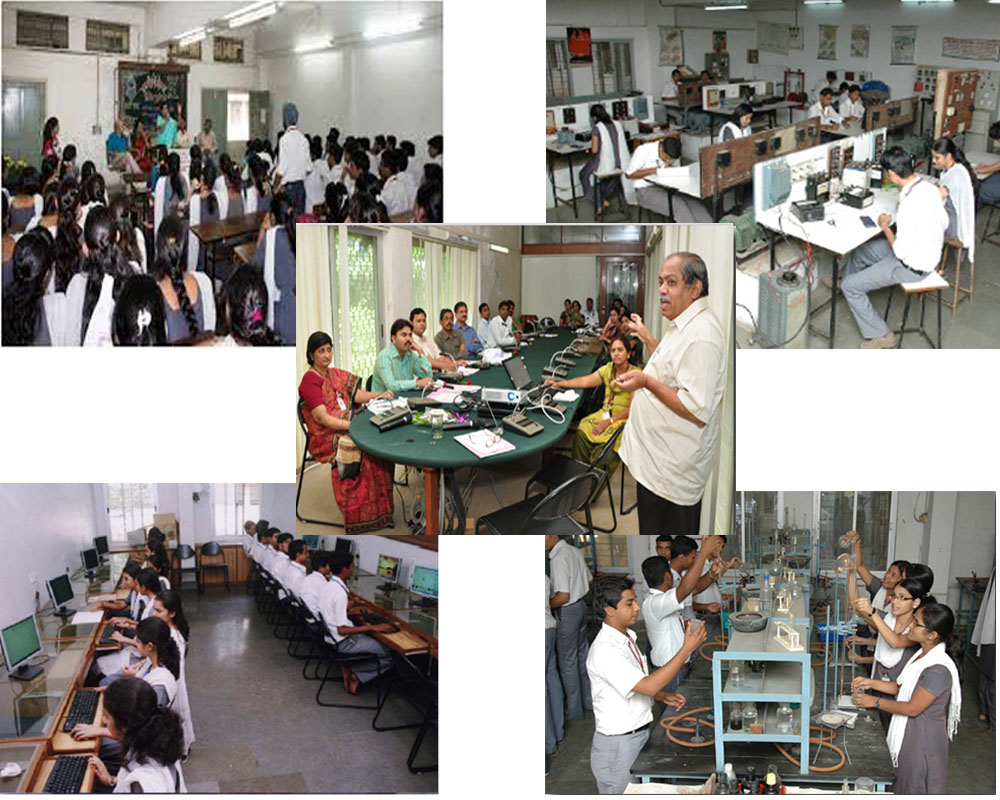 Internet & WiFi Facility - Key Features
1. Entire campus of 13 Acres is securely Wi-Fi enabled
2. Free, unlimited access to internet for all stakeholders from inside the campus
3. Internet
4. Leased lines for internet (50 Mbps)
5. Enterprise grade IT infrastructure
6. Well equipped, professional, server room
7. Fiber optic network backbone connecting all buildings in campus
8. VPM ( Thane ) host's its own website and email servers
9. Online payment gateway for payments of fees, seminar bookings, publication purchases etc.
10. Professional video conferencing facilities with Polycom equipment using ISDN or IP
11. Intra campus, inter institute, video conferencing with each building conference hall connected with multi point Polycom Video Conferencing  system.
Library 
Books are the best friends. Providing information for all the time. Satisfying the reader's requirements.

V.P.M.'s Polytechnic library was set up in the year 1983 with a collection of only 190 books but today we are very proud owner of over 27,475 books costing  Rs. 33,07,966. Library has 520 sq.mts. area. International and National educational magazines subscribed are 24, General magazines 13 , and bound volumes available for the reference total bound volumes are 1345. The library has to progress or the development strictly reflects the taste of its reader and automatically the vision of V.P.M.'s Polytechnic "Ensuring skill development through Quality Technical Education."

Library having Online Public Library having Online Public Access Catalogue (OPAC) system with a reading room having a capacity for 180 student and internet area for 14 number of students. Book Bank system introduced for needy students and has collection of 1063 books. SC students get free book bank sets. Total books of Accession are 27,475  while 8500 are titles.
CONTACT DETAILS
Vidya Prasarak Mandal's Polytechnic
Building No. 1, 'Jnanadweepa', College Campus,
Thane (West) - 400601 (MS),
Phone : (91-22) 2536 4494
Fax : (91-22) 2533 9872
Email ID : vpmpoly@vpmthane.org
Website : www.vpmthane.org
Also read: Oldest & Best State Board School in Thane – Saraswati Vidyalaya Rabodi
Back to All Thane Educational Blog, Article, Resource, Tips
Source: www.vpmthane.org
SHARE THIS: