Sumeet's Academy is one of the pioneer and well known coaching class in Thane, Maharashtra.
The founder of the academy, Sumeet Kunder, an engineer and rank holder of Mumbai University, is a passionate educationalist and an entrepreneur. He has great acumen to sense the need of students and work upon his shortcomings to shape his career aspiration. His style of teaching is very systematic, well planned and absolutely time bound. His every action and thought is for nurturing students to face competition ahead.

Sumeet's endeavor is strongly supported by his spouse Sneha Kumar an engineering graduate from NMIMS, Mumbai. Quitting Infosys and embracing teaching as her career speaks a lot about her dedication and interest towards teaching.

Sumeet's Academy ensures success and growth of students through a dedicated effort of a team of well educated & experienced teachers.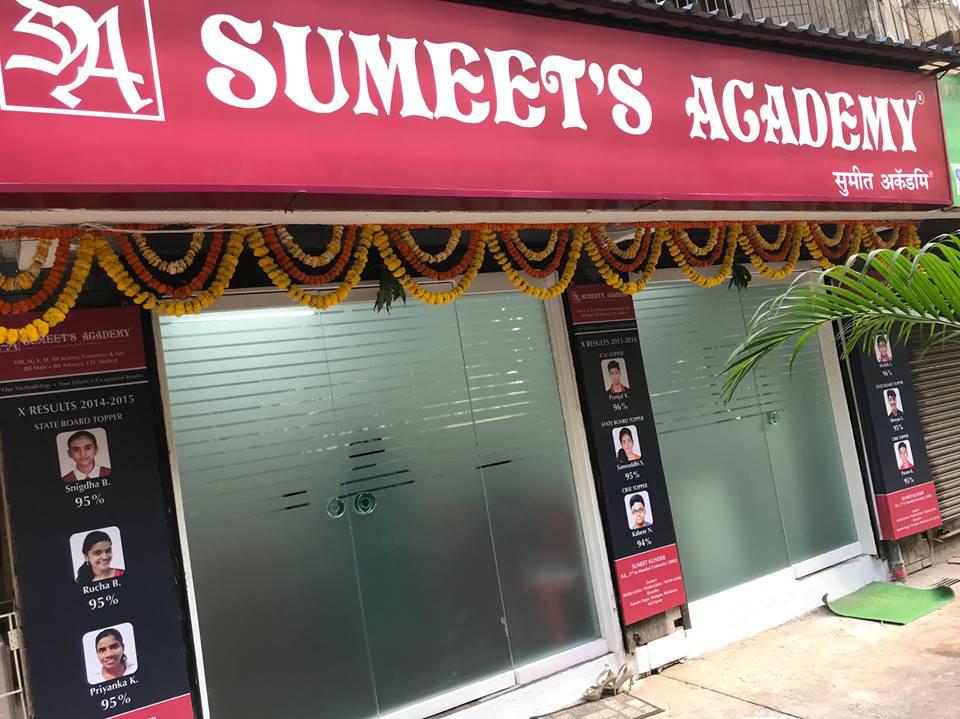 The coaching class thoroughly trains school students studying in VIII, IX, X of SSC, C.B.S.E & I.C.S.E boards and students of Junior college (XI & XII) of Science, Commerce and Arts. SA enables students to realize their potential and help them achieve their dreams'. This is its core credence supported by strong focus on academic excellence, innovation, and subject expertise built over a decade.
The coaching class - Sumeet's Academy - was started in 2003 with the aim to impart quality education to students aspiring to secure higher rank in various competitive examinations. In efforts to deliver quality education, SA emphasizes more on the need to establish one to one connect with every student and be attentive to their need so that they can be monitored and mentored accordingly to shape up their career.
Why Sumeet's Academy
Limited students per batch in order to give adequate and personalized attention to all.
They always ensure that students understand the basic concepts and are in pace with class. Special sessions are arranged regularly to clear doubts of students so that they do not feel left out in the class.
Courses are designed to cover school syllabus well in time. Regular mock tests are conducted to prepare the students for the stress and time-pressure in the actual examinations.
The team is always available to our students particularly when they need them the most.
Highly rigorous & relevant SA Study Material containing important answers from the board point of view is provided. This keeps our students ahead in the competitive world.
Parents are regularly informed about their child's progress and performance. Continuous Feedback Mechanism is in place at SA to improve on any shortcomings whatsoever as soon as possible.
Sumeet's Academy Portfolio
Preparing the students for School and Board Exams by imparting carefully designed coaching is objective of our classes. For over a decade, we have been mentoring students for improving their performance and success in academics. Sumeet Academy offers coaching for Std. VIII, IX & X students of State, CBSE & ICSE boards.
Transition from school to college and college to career oriented courses is an important event in life of every student. Students strive hard for it. College and career readiness is more important now than ever before. Sumeet's Academy handholds students very carefully for a seamless transition.
For over a decade, Sumeet's Academy has been mentoring students for success in IIT-JEE which is one of the most aspired competitive exam in the country. Rapidly changing pattern of IIT-JEE makes 'rigor in coaching' more crucial than ever before. Sumeet's Academy is facilitating IIT-JEE aspirants with its carefully designed program to achieve success in it.
Sumeet's Academy has been mentoring students for success in academics and preparing them for the best and bright future. The institute regularly conducts tests and clarifies the doubts arising to the candidates, if required with one-to-one session, so that candidates can be well-prepared before they appear for the NEET and AIIMS examinations.
Sumeet's Academy Branches :
Branch 1 - Samata Nagar :
Address : Samata Nagar Co-op Hsg. Society, Shop No - 31, 35, 37, 38, 41, Samata Nagar, Pokharan Road - 1, Thane -West, 400606
Phone : 022 2534 3046 / +91 98208 63046
Branch 2 - Brindavan Society :
Address : Shreerang Building, E-123, Shop No - 7 & 8, Thane -West, 400606
Phone : 022 2534 3046 / +91 98198 63046
Branch 3 - Lok Upvan :
Address : Lok Vruksha Co-op Hsg. Society, Shop No - 3, J1, Lok Upvan, Near Vasant Vihar, Tulsidham Road, Thane -West, 400610
Phone : 022 2534 3046 / +91 98208 63046
SHARE THIS: