10 Best Desk Organisation Ideas: Desk Organising Ideas For Home & Office
february 2022
SHARE THIS: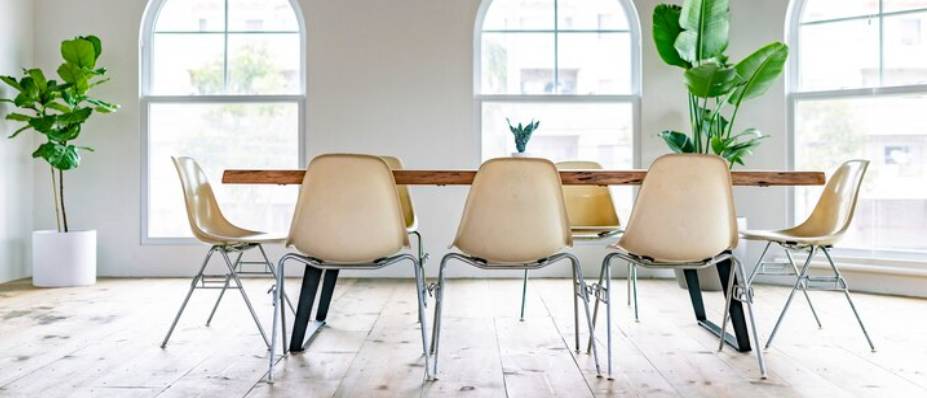 Far too often, we find ourselves scouting social media for the ideal workspace in which to be our most productive selves...but nothing seems to fit after endless scrolling. When you work from home, or if you've made the return to working from the office after what seems like an eternity, having a desk no, having an organised desk means the difference between slipping down a two-hour social media rabbit hole and being able to clock out early.

A well-kept, well-organised workspace can help you work more efficiently. Getting rid of clutter relieves anxiety, allowing you to focus on your work rather than cleaning. It is beneficial to establish organising methods in order to avoid clutter from accumulating. Having a place for everything will help you feel more organised and prepared to take on any assignment that comes your way.

Here are some tips to keep your workspace organised, whether you're at home or at the office.

For Office
1. Keep Your Laptop/Desktop In Front Of You
Maintaining your focus by keeping your computer or laptop in front of you is a good idea. It should, however, be comfortable, so make sure the monitor is set up so you can sit facing it with your back straight. Allow yourself roughly 1.5 ft of space in front of you. What about the computer cables, you ask? Keep them hidden under your desk, and use computer wire ties to keep cords and chargers in check.
2. Most-Used Things On Your Dominant Side
Keep all of the stuff you use frequently on your dominant side, so it is easier for you to access them. You don't want to be spending your time all over your desk for that notepad, or pen.
3. Group Similar Items Together
Unless you're an artist who works with acrylic paints, brushes, and a variety of other materials, you can probably fit all of your office supplies into one drawer. Keep your versatile office materials in a single office drawer. All the paperwork pertaining to the same or similar errand can be put together in a file.
4. Ditch The Sticky Notes
Are you the type who uses sticky notes to cover their entire display and then labels everything "important"? That is probably not the greatest way to go in terms of workplace organisation ideas. Not only is it possible that one of those notes will fall off and end up in the trash, but pinning that many notes to your monitor also appear cluttered and tacky. You'd be better suited to receive notifications through your project management or productivity tool, where they'd be secure from the office vacuum. Sticky notes should only be used for the most important chores or that final wild idea you don't want to forget during lunch. Sticky notes should only be used for last-minute reminders. They aren't a to-do list in the traditional sense.
5. Open Desk Space
Keep the area immediately adjacent to your computer or laptop as clutter-free as possible.

You can check files or documents straight away without having to clear any desk or office space this way.

Also, don't leave anything here for too long.

Examine, revise, approve, and move them forward.

This is another area where project management software and organisation tools come in handy.

For Home
1. Create A Command Centre
Bring the same efficiency to your office as a mudroom or kitchen family command centre. Set up a home office station with a printer, a corkboard, files, and a calendar. The advantage of centralising vital objects in your workspace is that you'll have fast access to important documents and supplies, keeping them from getting misplaced and cluttering other areas of your business. A tiny table serves as the foundation for a few well-chosen things.
2. Keep It Clean And Simple
Make your workstation the first item you organise in your home office. It will make you feel a lot better if it appears to be well-organised. The easiest approach to do so is to invest in a few functional and attractive accessories that will help you achieve a more streamlined appearance on your desk.
3. Shelve It
There's no need to be concerned because you don't have a closet. To organise and design your home office, use open shelves. Keep books on shelves from seeming too jumbled by using durable and attractive bookends to keep them in order.
4. Cubby System
Do you have inventory that is difficult to keep or need to exhibit products for visitors to your home office? If that's the case, a cubby system might be the ideal organisational solution for you. A cubby system has the advantage of being naturally clean, symmetrical, and ideally sized to create the appearance of organisation. Decorative storage baskets can be slid into cubbies to conceal small objects or goods that might otherwise appear disorderly.
5. Paper Holders
Desktop paper holders and paper sorters are office workhorses that never go out of style. It's a quick and easy solution to hide all of those documents strewn about your desk.
In Conclusion
Whether you're at home, or the office, these tips can not only make your workspace look organised, but also help with your productivity. After all, who wouldn't want to work out of a neat and clean desk?
Source: hercircle.in
Also Read : Common Work-From-Home Challenges and Tips to Overcome Them
SHARE THIS: