From a tranquil suburb to a buzzing metropolitan, the change of the Thane city has been really astonishing. Here are a portion of the features that can enable you to think about Thane over Mumbai: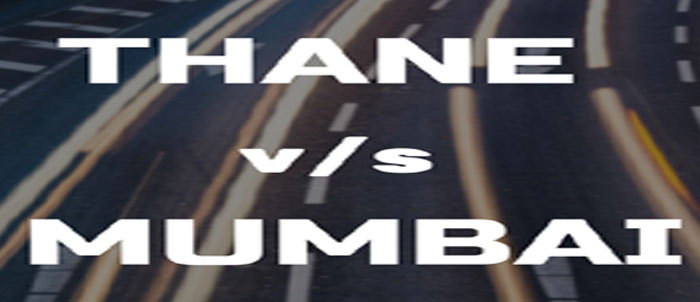 1. Greenery
The green spread in Thane is a standout amongst the most featuring focuses which could be taken in thought while picking between Mumbai and Thane. Thane is known to have the most number of Public Parks. The Yeoor hills which is a piece of the Sanjay Gandhi National Park is well inside as far as possible and accommodates a characteristic retreat. Monsoons in Yeoor hills makes it a ideal spot experience nature.
2. Shopping and Leisure (Nightlife)
There are 3 shopping centers within a span of 3 kms - Viviana, Korum and R Mall shopping center which are similar to the best of shopping centers in Mumbai. One can find the best of national & international brands and have variety of food chains that Mumbai has to offer. Everything is a bit cheaper. That would be unfortunate for spendthrifts and boon for the frugal. When we compare the nightlife of Mumbai and Thane City, the former one is obviously dazzling enough to make anyone fall for it because of the glam but trust the latter one as Night life in Thane City do have an amazing platter as well.
3. Schools
Thane City has some of the best schools. Know more about the Schools in Thane.
4. Connectivity
Thane is well connected by road to the central & western suburbs as well as Navi Mumbai.. for eg. one can reach Borivali in 30 minutes via Ghodbunder road and Ghatkopar at the same time via the Eastern express highway. Airoli in Navi Mumbai is 15 minutes away. Going to Pune, Nashik or Goa also is better from Thane as it saves you at least an hour than travelling from Mumbai.
5. Railroad Convenience
If you want to commute via train, Thane has a starting local to CST almost every 15 minutes which ensure a comfortable journey to your destination. Every Long distance train on the Central and Konkan Railway route halts at Thane. Wow! This is a boon who travel often
6. Cycling and Running
The city accommodates the best cycling and running tracks. There are more small and big running events in Thane than in Mumbai. There is an amazing amount of people that have taken to running & cycling in the city of late which makes the city very attractive for all the fitness enthusiast.
7. Residential Options
The last two decades has seen the growth of the city into a beautiful residential hub. You will find self-sufficient residential colonies which are very very peaceful and are much cheaper to maintain than mainland Mumbai.
8. Infrastructure
The city has wide roads, green borders and ample service roads to occupy heavy vehicle parking. Plan for Metro rail has already been passed and work will start shortly.
9. Cultural heritage
Thane is culturally very rich and promotes lot of performing arts through various art & culture venues like Gadkari Rangayatan, Kashinath Ghanekar Natyagriha and Thane Kala Bhavan. As a result of this a lot of Marathi TV & Theatre artists have settled here. Festivals like Dahi Handi, Navratri & Ganesh Chaturthi has been celebrated with great fervour since many decades.
10. Outing options
Thane is also called a city of lakes. among the numerous lakes that dot the city some of the popular like the Masunda Talao (Talao Pali), Upvan Lake, Kachrali Talao and the Panch Pakhadi Talao make for scenic evening outings with good chat & play areas for kids. add to this the many legendary food outlets and restaurants that make Thane a foodie's paradise.
SHARE THIS: