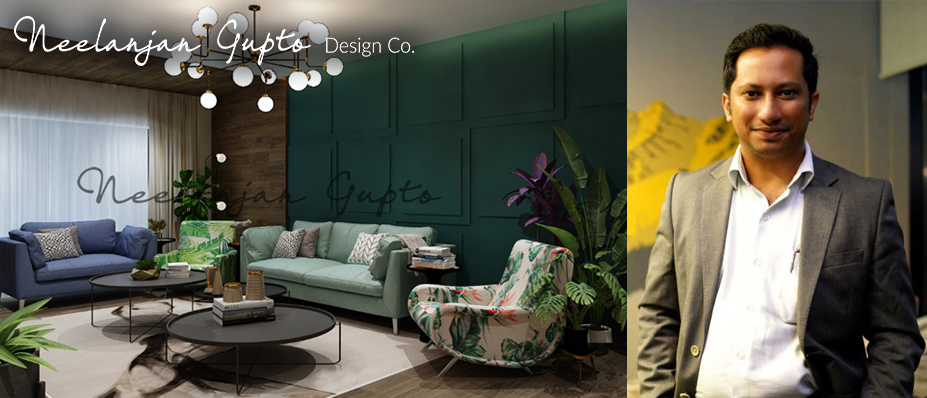 About Neelanjan Gupto
Is the founder of one of the most preferred and innovative interior designing firms in Mumbai; NeelanjanGupto Design Co. His unique ideas and compelling designs have gathered massive recognition in the interior design domain. With an extensive experience of 15 years which includes 5 years of international expertise, he has reshaped the industry paradigm with state-of-the-art ideas and latest trends. His profound ideology has been a major factor for design conceptualization, site-specific details design solutions to all the projects, and the overall growth of the company in-line with changing market trends and new technological advancements in the design and construction world.

A man of immense talent and proficiency Mr. Neelanjan is an honorary B.Arch graduate from the Univ. of Mumbai, with a Gold medal also Interior designing & Space planning specialization. He is also recognized as a member of the Institute of Indian Interior Designers (IIID) and honorable Jury members ACE Tech, Mumbai. His amazing designs have satiated the expectations of 500+ happy clients pan-India and he is looking forward to reconstructing the corporate and commercial scene with his beautifully designed spaces that make interiors amazingly convenient.
Who are we
We are innovative and seasoned designers who reinvent corporate offices, commercial spaces, and homes with innovative and dynamic designs. We have 50+ professionally trained team experts who handle end-to-end execution of every project with great attention to detail. With each successful venture, we have proved to be one of the best interior designers in Mumbai. We are proud to have a compelling record of 500+ happy clients, 300+ retail store delivered, 15,00,000+ sqft office spaces delivered and 100+ homes delivered in Mumbai and across India.

Our company creates unique, functional and flawless designs suited for your office, commercial spaces, and homes. Whether it is a necessity or just mere aesthetics; we assure elegance throughout. At NeelanjanGupto Design Co. we focus on creating the incredible with bespoke interior designs for corporate offices or retail stores. We provide you with a functional perfectionism, delivered professionally by collaborating with the best interior designers in Mumbai. Our designs and creations are admired by our clients which has made us the most preferred and trusted interior designers in Mumbai. By fulfilling the promise to deliver the kind of work you would want and need, we have been able to maintain our stature as the leading interior designer in Mumbai. Our designs are meant to tantalize your senses by giving you the best possible surroundings. They arouse a sense of luxury and comfort in the individual and the desire to never part from those beautiful pieces of art.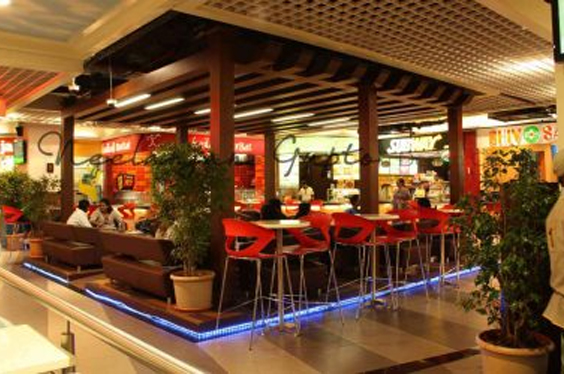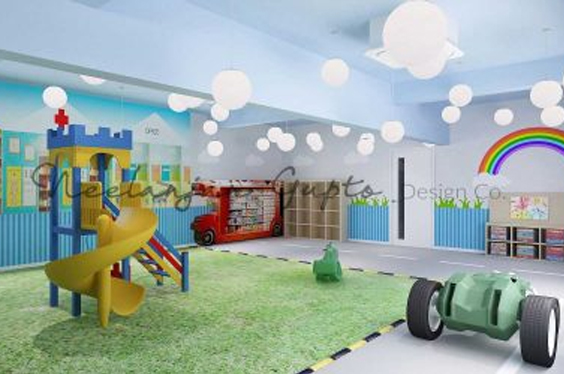 Why us
NeelanjanGupto Design Co. comprises of innovative and exemplary interior designers who aim to give you the most elegant and convenient surroundings. We analyze your style and aura to create designs that give a personalized appeal. We deliver quality craftsmanship which is unique and trendy at the same time. Our projects are guaranteed with a comprehensive 5yr after-sale service* so you can enjoy flawless interiors with ease. Our hard work and diligence have conferred on us the title of one of the top interior decorators in Mumbai and we work hard to be able to deserve that title. We offer you a quality professional service that helps bring out your dream office, or showroom or home to reality and we use our unique custom furniture to achieve it.

We have client-oriented experts who create unconventional solutions and exquisite designs that suit your every need. Our team has worked on more than a hundred projects and has helped over eighty clients to beautifully design corporate offices, commercial spaces and home with stunning interiors. Our clientele includes brands like Justdial, Fabindia, The Coco-Cola Company, Hindustan Unilever Limited, Tata Motors, Ginger, kaya skin clinic, Shri Dinesh Group, ador welding, DP World, Prettislim, and Growel to name just a few. We are fun and love to make you happy with our quirky yet sophisticated designs! Connect with us soon to know us more.
Our Mission
We are a group of creative, innovative and expert interior decorators in Thane west and we aim to help you achieve your dream of elegantly designed interiors. Our team is not just limited to offering you a comfy, luxurious, or quirky place instead we offer you a classic experience with dynamic and trendsetter designs. We collaborate with industry experts who offer professional services and provide a great finishing touch to the entire project. We customize offices, retails spaces and homes to make it lively with luxurious charm. We aim to create unique awe-aspiring designs that make you feel more energized throughout the day. We offer reliable, trusted and innovative interior designing services in different cities and countries of the world.
Beauty Beyond Designs
Our mission is to create stunning spaces with beautiful custom designs and the latest trendsetting concepts.
Trusted
We analyze your demands and aura to create surroundings that reflect your imagination. Our budget-friendly designs are created using high-quality resources and come with a comprehensive 5-year warranty.
Reliable
With 18+ years & on in the interior decoration industry, our designs and services have made us one of the highly revered designers in India. We create amazing with your ideas and our expertise.
Innovative
With 50+ professionally trained team, we bring innovative designs for you that transform your spaces and make you a trendsetter.
Hospitality
Elegance and luxury are the two key elements that make a hotel appealing. With a team of finest designers in Mumbai, Neelanjan Gupto Co gives you signature style décor elements against a minimalist background, creating drama and eye-catching contrast for your hotel. We believe in adding value to space, to make design a more productive and profitable marketing tool, rather than merely a capital investment.

We have conceptualized many vibrant cafes and stylish business hotels with the element of luxury through a rich sensory experience by using the finest materials, and textures, creating an irresistibly welcoming appeal that was enhanced through intimate lighting and gilded pieces that add a feeling of relaxation and wellbeing.
Retail Interiors
Neelanjan Gupto Design Co. also specializes in the designing of various commercial spaces across Mumbai and Kolkata. Our proficiency lies in offering interior designing services for various commercial spaces like office premises, conference rooms, coffee shops, training halls, community centers, museums, warehouses, stores, libraries, waiting rooms, and various other commercial spaces. We aim to be the one to take the level of convenience for you to new heights and make things as easy as possible for you. Our Mumbai team undertakes all the interior designing responsibilities of projects that require designing from scratch or simply remodeling.

Our proficient teams comprise of expert interior designers, customer service experience specialists, finance experts, etc. who provide the best possible solution for you. We work with a sense of fulfillment to provide you with a complete and overall solution to your interior designing needs and problems. Our company is often referred to as one of the best commercial interior designer in Kolkata and the best commercial interior designers in Mumbai. We always try to provide all our esteemed customers with the best possible service, extremely elegant and luxurious designs, amazing customer service, and incredibly client-oriented designs and services. Our designers and other teams use the latest technology to come up with perfect designs that make you a trendsetter. We use top quality fabrics, furniture, paint, and other equipment to transform your offices and retail premises.
Educational Interiors
Neelanjan Gupto Co specializes in recreating schools and college buildings with designs that emphasize visual education. With the finest designers in Mumbai, we create designs that make learning fun. We analyze your available resources earlier to start the development of the interior design. Our expert designers get into detailed discussions with you for school interior design project idea & goals, interior design constraint & limitations, as well as preferred direction and conduct on-site and check on the availability of equipment and assets requested by you/client. Our school designs not only provide education but also provide all-round development to the students.

A play area, auditorium, library, sports facilitating area, gym have to be placed and provided for in the school design layout. Library designs need to be aligned with the demands of the interiors. The layout of seating, shelves, and the paper stands needs to be done to provide a completely engaging experience.Further, the end solutions are made available to provide durable usage. Storage space near the sports facilitating area to store sports equipment should be made.
Boutique Interiors
When it comes to boutique design, we at Neelanjan Gupto Co ensure that you get the best designs that are a class apart. Our team of experts design and restructure your boutique with innovative ideas for maximum audience attention. We analyze your requirements and conceptualize fresh designs comprising of convenience and creativity. Our projects are revered by our clients from all over the country. We aim to take you a step ahead from the ordinary with breath-taking designs for your store.

Our team of designers ensures that every element of your store adds elegance while providing a wholesome experience to your customers. Each and every design created at Neelanjan Gupto Co is designed to match the requirements of our clients. As the top interior designing firm in Mumbai, we collaborate with numerous industry experts for meticulous designing insights for our projects.
Residential Interiors
One does not need to be a genius to realize the importance of home. The word 'home' itself sounds warm and comforting. It makes us travel back to the place where we feel comfortable and get a sense of belonging. Often the earliest memories of our lives go back to the places that we call as home and apart from the sentimental aspect associated with home or residence there is a different aspect to it which reflects in our personality. A house also reflects the character of a person and his aspirations which why we want our home or living residence to be in impeccable shape from floor to ceiling.

We take efforts to understand the personality of our clients and create breath-taking residential spaces that leave them astounded, and this has conferred on us the title of best residential interior designers in Mumbai and & many metros. At Neelanjan Gupto Design Co we aim to provide our clients with the perfect home that makes them feel comfortable and coincide with their standards and personality. With a valuable experience of working for more than 80 clients and 100+ projects we understand your needs and create solutions for your interior designing problems.
Office Interiors
When it comes to office designs we aim to give you the perfect blend of mood, brand, and functionality through our designs, thus creating an intelligent and efficient workspace. We understand that the workspace is a place for inspiration and needs to have an ergonomically friendly and aesthetically pleasing design. Considering the changing demands of our clients we have been evolving our designs constantly to give you a fresh and trending office.

At Neelanjan Gupto we create innovative designs in collaboration with the industry's finest designers.Our portfolio does not comprise of cliché presets rather we enable our clients to customize the designs according to their lifestyle and taste. We believe every office has to be optimized to uplift and soothe, allowing employees to stay fresh and healthy, and increase work efficiency. We ensure that our contemporary decor resonates with your brand and make you and your employees feel connected to the environment.
Address : Suite no 307, Oriana Business park, Opp New passport office, Wagle Road no 22, Wagle Industrial Estate, Thane (W) 400604, INDIA.
Phone : +91-7718811975
Email : neelanjanguptodesignco@gmail.com
Website : www.neelanjangupto.com
Created On June 2021
SHARE THIS: