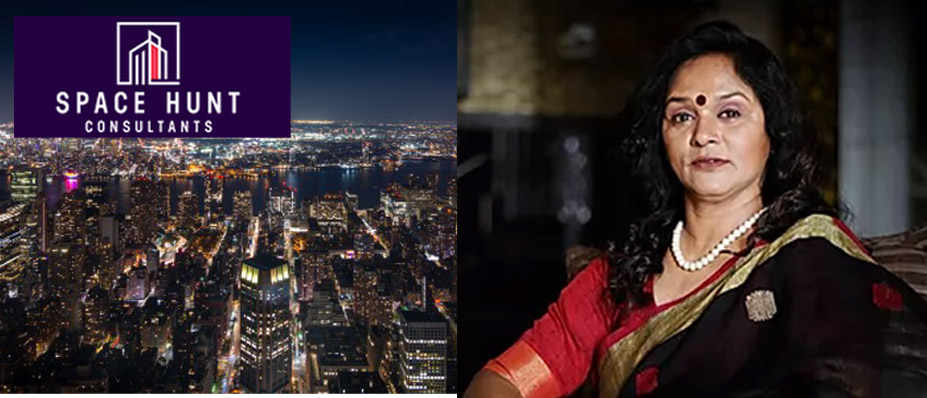 About Kavita Kiran
"Real Estate in India is witnessing disruptive trends over the past few years''. But, that is not the reason for me entering into Indian Realty Industry says Kavita Kiran -Founder of Space Hunt from Mumbai. Her experience as an employee has added knowledge in the Real – estate sector and made a decision to start her own consultation as Space Hunt. While making way to the real estate industry she had to deal with enough credibility challenges because of gender and business knowledge.

Her journey has been full of roller coasters. 'I look at Real Estate as a property consultant but initially, it didn't appeal to me much because it did not appear comfortable for women and not many women were found' says Kavita. What attracted her to plunge into it was 'the only one Lady Realtor' identity in this business and take the challenge. And she became one.

Kavita uses a combination of marketing experience and good-old-fashioned hard work to ensure clients have a positive experience worth talking about. At the end of the day, Kavita's goal is to leave you with a smile and more money in your pocket.
About Space Hunt
Their professionals are experienced in helping clients find the right commercial space for their needs — whether it's as a potential investor, buyer or tenant. Kavita Kiran and his team can explain all of the steps that go into setting up a functional commercial space and, unlike other professionals, can guide you through all of the steps after purchase, if you desire. Our assistance doesn't have to end at the sale — we assist in commercial property consultation, real estate vendor management and also in financial services which is why many of our clients contact our company for professional assistance.
What Can They Do For You?
Helping you with Consultation, Management & Assistance in Real Estate
Commercial Property Consultation
Whether you're planning to invest, buy or lease a commercial real estate space, there is plenty of complicated steps involved. So to ease them up Space Hunt team will assist you in all the stages.
Real Estate Vendor Management
Our in-depth knowledge of all real estate processes will aid in your vendor analysis and selection, our team will guide through every step of the vendor selection process.
Loans & Investment Assistance
Deciding to pursue commercial real estate investing is a big decision to make. You will need to consider several factors before choosing, as there are many steps involved in investing in a commercial property.
Created On March 2020
SHARE THIS: