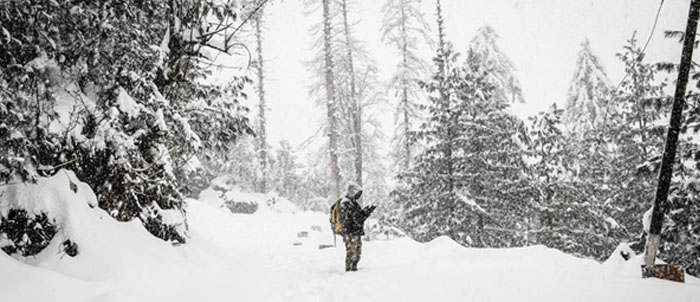 Image Source: www.unsplash.com
Every year, winters turn Manali white, making it one of the most loved places in India for anyone with a liking for snowfall. Come December or around, and this town wakes up from its dreamy winter slumber to mornings that bring bouts of snow, not without some sunshine of course. As a ritual, the local folks here start the preparation beforehand, complete with stocks of firewood and angeethis. If you wish to explore this beautiful hill town in India in its wintery avatar, here is your guide of the best things to do in Manali on a winter day.
1. A coffee and some cookies at Dylan's
Much to everyone's delight, this cafe has stayed as wonderful as it was when it started. Dylan's Toasted and Roasted will live up to all your expectations on a snowy day, especially with the staff taking care that you get nothing but the best, toasted beans from Coorg and Chikamagalur for your coffee. Their cookies are all-time favourites as well.
2. An evening at the Johnson's Cafe
Another old-school place that lives up to its name, Johnson's Cafe & Bar usually puts up live music sessions around Christmas and New Year's Eve, or whenever it snows in winters to keep its customers happy. This place has a delightful ambiance, a great food menu (those pizzas), and some fine wine as well.
3. A drive to Naggar and beyond
There is nothing like driving in snow, as long as you have a local driver and your vehicle does not get stuck in it. While it does sound like an adventure, a local driver knows the terrain like you never would so hop in for a snow drive. Put on some good music, marvel at the glorious Naggar Castle, and then drive some more towards Jana Waterfall. Choose what you love more, this quaint village or the waterfall it has.
4. Some forest time by Hadimba's abode
It would suffice to write that if you do not spend some afternoon hours in the forest behind the very famous Hadimba Temple, you would be missing the best of this place. A conserved area, this forest area is a mirage of quiet and green in the middle of a rather touristy stretch of Manali. It looks nothing short from a prelude in the Bavarian forests when it snows; do not miss.
5. Fresh trout and more at Cafe 1947; pizzas at Il Forno
Cafe 1947 in Manali is worth all the hype that it attracts. While its perfect settings by Manalsu river is a definite win, almost everything on their menu is worth digging into it. To make the choices simpler for you, we recommend trout dishes here. On the other side of the river, Il Forno awaits those in ardent love with Italian food. One of the quaintest, no-noise places to eat in Manali, a hearty, good Italian meal is a must here.
Also Read : 15 trips in India that are worth your hard earned money
Source: timesofindia.indiatimes.com
SHARE THIS: